With pregnancy-check season just around the corner, now is a great time to reflect on how this year's breeding season went.
Open cows don't make the farm profitable. While some females need a career change due to attitude, age, structure or poor performance, sometimes cows are open due to circumstances outside of their control.
Extreme dry or wet weather conditions and low forage quality and quantity, coupled with high hay prices, can result in cows being thinner than intended, leading to decreased conception rates. Likewise, instances of bull infertility due to heat can increase the proportion of open cows. For areas within the Fescue Belt, these problems can also be intensified due to fescue toxicosis. Many spring-calving herds grazing fescue during the summer months while lactating experience difficulties breeding back. However, gestating fall-calving females on the same pasture tend to gain body condition.
If these issues have affected your pregnancy rates this fall, there might be an opportunity to develop a fall-calving group within your herd. However, it is important to be selective in the cows you allow to roll over into a fall herd. While it may be costly in the short run, cows in good condition and of good age may return higher yields as a fall-calving cow compared to being sold for pound price this fall or winter. Moving these females back may allow producers to maintain numbers without the added cost and management considerations of replacement and first-calf heifers. Moreover, the fall-herd option gets a jump start on the revenue generation process, while avoiding wintering costs on an open female.
While a fall-calving herd brings a different set of challenges to the table, having both a spring- and fall-calving herd offers several advantages to the operation, including an additional payday, selling fall-born calves during a traditional spring-herd low market and an increase in productive months out of the bull power.
For some producers, fall-calving season is considered to occur between August and October, while others would indicate calving between September and November. Regardless of the fall-calving season, it is critical to consider the differences in stages of production and feed requirements for both the spring- and fall-calving herds.
Available feedstuffs will likely influence your decision about how fall calving can fit within your operation. If you rely heavily on low-quality forages, such as first-cutting hay or cornstalks, with minimal supplementation during winter months, it will be difficult to meet a fall-calving cow's lactation requirements. However, stockpiling high-quality forages such as improved pastures or hay ground can aid in meeting the higher requirements of the fall-calving females versus spring-calving females.
Likewise, grazing cover crops in the fall can generally provide sufficient crude protein and energy to meet lactation requirements, as well as provide extra pounds at weaning. A study conducted at the Iowa State University Beef Teaching Farm in the fall of 2017 indicated that fall-born calves grazing an oat-brassica mix alongside their dams resulted in a 0.9-pound average daily gain advantage over their counterparts raised in a drylot setting. As always, the only way to know if your forage and ration analysis is sufficient to meet cow requirements is to test feedstuff. Working with your nutritionist or extension beef specialist can help you evaluate ration.
Another critical component of fall calving is determining the appropriate weaning time. With fall herds, early weaning is much more common than with spring herds, as it reduces feed requirements by 30%-50%. Research has shown that after 90 days of age, health risks are reduced, so quality and quantity of feed resources should dictate time of weaning. Since stockpiled forages are generally the cheapest, highest-quality feedstuff on the farm, their availability will be a key economical factor. Likewise, cover crops maintain their feed value relatively well past a killing frost. Provided adequate fencing is in place, grazing weaned calves on cover crops is also a cheap alternative to the traditional drylot backgrounding system.
While developing a fall-calving herd will not be an option in all operations, it is an overlooked opportunity for many. As you evaluate your calving-system decisions and ration choices, contact your local extension beef specialist to develop a management plan that fits your operation.
This originally appeared in the August 2018 issue of the Iowa Cattleman magazine, an Iowa Cattleman's Association publication.
PHOTO: Consider the differences between nutritional needs and input costs involved with a fall-calving herd to see if it could be a good fit for your operation.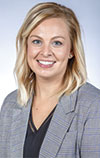 Erika Lundy

Extension Beef Specialist
Iowa State University