Once in a while, it's good to get away from home for a bit to reboot and refresh the stale routine of whatever your particular routine may be.
Although I was leaving more unfinished chores than completed projects at home, I reluctantly struck out for the Red River country in mid-June. In spite of my ignorance-induced hesitation, I had the good fortune to spend a few days in June in and around the Ardmore, Oklahoma, area as I attended the Texoma Cattlemen's Conference, hosted by the Noble Research Institute.
I had a superficial awareness of the Noble Research Institute and its praiseworthy reputation before the trip, but I really had no idea of the depth and magnitude of the facility and the work done there. And the magnificent work and research done at the institute, no matter its scope, can hardly keep pace with the generosity, philanthropy and goodwill generated by the staff and directors.
I was simply amazed. The dedication and eye towards service with which these people practice their craft is truly remarkable. At every turn, you get the feeling that the goal of every one of the 400-plus staff and employees is to enter the next minute or day or task or adventure having left the last one better than they found it. No matter the title, station or position, every person I met, to a man, exuded confident, friendly positivity.
And, although these people were immersed in and dedicated to agriculture and the idea of advancing ways to more efficiently feed the world, I got the sense that most, or all, of them could be equally successful in any profession or field they might have otherwise chosen. You name it – politics, diesel mechanics, computer programming, glass blowing, onyx mining, astrophysics or waiting on tables – these are the kinds of people who would excel at whatever they were doing and who make those around them feel better about themselves in the process. After meeting them once, you could never doubt the passion and dedication of folks like Billy Cook, Hugh Aljoe, Devlon Ford, Adam Calaway and Robyn Peterson.
Talk to any of the ranchers in the area who have worked with and benefitted from the expertise and experience of the Noble Institute, and I'm certain that you'll encounter the same enthusiasm. People such as Calvin and Deanna Farr, who manage the Edge Rock Ranch in nearby Madill, Oklahoma. They've come to rely on and trust the programs and people of the Noble Institute in everything from pasture management to marketing.
And, since I'm throwing out names and heaping praise, I have to mention the Lloyd Noble Scholars in Agriculture and Plant Science programs, which allow elite ag students from across the country to work with and glean knowledge and experience from the incomparable Noble staff. I had the privilege of meeting and breaking bread with a handful of them: Carissa Pickard from Colorado State, by way of Cheyenne, Chali Simpson from New Mexico State, Nicole Sederstrom from the University of Wyoming and Brent Weiss from Delaware Valley University, by way of Pennsylvania.
Take note of those names. I've no doubt that they'll continue to carry the noble Noble torch.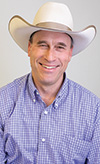 Paul Marchant

Writer
Progressive Cattleman
PHOTO: Billy Cook, foreground, and Hugh Aljoe, both of the Noble Research Institute, talk to farm tour participants about cattle on the Red River Ranch. Photo by David Cooper.
Before commenting on our articles, please note our Terms for Commenting.