Pick nearly any day of the week from the end of February through the middle of April, and you will likely be able to find a bull sale to attend. And, if you can't find one to attend, you can find several not to attend.
Who doesn't like a bull sale? A sale is as much a social function as it is an act of commerce. To truly absorb and appreciate the genuine experience, you'd best arrive a couple hours before the first bull trots into the ring – or his image shows up on the big screen. (There is a trend nowadays to video each animal instead of running each critter through the ring.) If you really are in the market for a bull or two or three, you'll need an hour to walk through the pens with the catalog to at least pretend to coordinate EPDs and phenotype. Although you know you'll never have a chance at lot number one, you need to at least stand back and eye him up and down, just to make people think that you may be a high roller of some sort.
Yes, there is such a thing as a free lunch. It's served an hour before sale time. I'll make the seven-hour drive to Missoula just for the pitchfork steak fondue served at Coleman's sale. The Beckman and Adams sale features a perfect steak sandwich and more homemade cookies and deserts than a fat kid could dream of. When Vicki tells me to put a couple of cookies in my pocket for the road, I'm unashamed of my gluttony.
There's just something intoxicating about the chant of a good auctioneer. And, a good one knows how to activate his charisma to mesmerize and flatter the most stoic of hand-sitters. Whether it's Rick Machado's Mediterranean charm, Kyle Shobe's disarming friendliness, Butch Booker's folksy banter or Joe Goggins' family comedy act with his brother, John, at ringside, the world-class auctioneers that take center stage at the rural sale barns and purebred ranches all across cattle country each spring are stars in their own right.
The mystery of their wizardry is a surreptitious enigma, known only to members of their apparent secret society. How else can you explain how a guy, with no military background, but whose title is Colonel, with the simple exclamation, "good eye, good buy," can make you feel as though he's done you and future generations of your posterity an un-repayable favor, after enticing you to shell out 9 or 10 grand for four bulls, when you only needed two? My wife and the bookkeeper would like to know.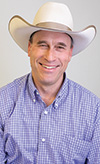 Paul Marchant

Writer
Progressive Cattleman