A sometimes underappreciated, if not completely forgotten, link of the beef production chain is the cull cow market and slaughter segment. I am probably one of those who, at times, has not adequately appreciated the significance and contributions of the cull cow to the grand scheme of our little cowboy party.
I realize it's kind of a careless and silly mindset when cull cows, generally speaking, account for 15 to 25 percent of annual gross income for the average ranch and that the cull cow market, including dairy cows, consistently accounts for 17 to 19 percent of all cattle harvested in the U.S. each year.
The apathy was jolted out of my system after I spent a couple of hours at the new state-of-the-art CS Beef Packers facility just outside of Kuna, Idaho, courtesy of a tour sponsored by the Idaho Cattle Association (ICA) as part of ICA's annual Summer Round-Up.
CS Beef Packers LLC is the result of an extraordinary partnership and collaboration between one of Idaho's crown jewels, the J.R. Simplot Company, and the venerable Texas institution, Caviness Beef Packers. And – though the marriage may still be in the honeymoon phase – from every indication, this union has all the makings of a successful partnership that will see its participants happy and successful well past their golden years.
It's clear that the people in this outfit are dedicated to doing things right. The unspoken, yet obvious mantra is that honesty, transparency and hard work will result in success. That seemed to be the obvious message that managers want to convey to everyone, from the newest employee on the floor to the ranchers supplying the cattle and, ultimately, to the end consumer of their beef and beef byproducts.
Plant manager Brady Hicks, floor manager Leonard Oltman and head of cattle procurement Rex Hoagland were as genuine and accommodating as they could possibly be. Their openness and honesty about every query was quite refreshing. I got the feeling that they truly want to see everyone involved in the process achieve the highest possible level of success.
In addition to the normal harvesting processes that you'd expect to find at a beef slaughter facility, I was intrigued by the innovative Simplot in vitro embryo program, led by Jeremy Howard and Ruben Mendoza. The program is utilized mainly by dairymen, who are able to obtain breed or individual cow specific oocytes, which are fertilized and processed by a very competent staff at the facility and made available at a reasonable cost.
The two-hour visit to CS Beef Packers was much more than a structured "tour around the island." It was a positive and revealing lesson in cooperation and innovation.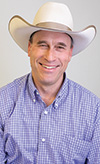 Paul Marchant

Writer
Progressive Cattleman