"Nationwide glorification of hog hunting has done nothing for control and everything for expansion. You can't hunt enough to make a dent. It might be fun, but it's not control."
Those words, spoken by Dr. John Tomecek, a wildlife specialist with Texas A&M AgriLife Extension, caught my attention as I listened to his presentation at the Wichita Falls Farm & Ranch Expo seminar.
One feral female hog times three years easily equals over a hundred offspring. "So if you see one or two hogs, don't think, 'It's not that bad,'" Tomecek warned.
By a raise of hands from about 150 producers present, about a third indicated feral hogs had inflicted $1,000 to $5,000 of damage on their operations, a third had been hit with $5,000 to $10,000 in damages and a third had been slammed with over $10,000 in damages from feral hogs. And that's just the physical damage. Un-assessed were damages from feral hogs carrying diseases – brucellosis, leptospirosis, even bubonic plague – infecting livestock through direct contact or indirect transmissions (i.e., through water sources).
Tomecek said, "Feral hogs will eat anything with a calorie in it," and even that may be an understatement. To maintain (not improve, but just maintain) feral hog levels, a 70 percent kill is required every year. Feral hogs are not "wildlife," Tomecek said, but are a non-native, invasive livestock with no natural predators.
Feral hogs, Tomecek said, are much more intelligent than we often give them credit for. He cited an experiment where dogs had been trained to trip a trigger and receive a treat, and then were given a two-month break. When they were returned to the trigger, the dogs had forgotten how to trip it and had to relearn the process. Feral hogs, however, were given the same training and after two years they still remembered how to trip the trigger. Tomecek emphasized the point that you only get one chance with a feral hog for trapping, and if even one hog escapes, it will remember the incident and shy away from future trapping efforts.
Tomecek recommended a multi-pronged approach to control, with thermal imaging, remote traps, night vision goggles, human-tripped traps (as opposed to automatic traps), helicopter hunting and warfarin-based toxicants.
The Wichita Farm & Ranch Expo also held a production bull sale, and I met some good folks there – among them Mike Yandell with Yandell Limousins and Linda Thorman and Richard Farmer with North Star Angus. They let me walk their operations through the red dirt and mesquite trees where cattle were grazing spring wheat that was just greening up and standing a few inches high.
Note to self: Next time you go to Wichita Falls, take your brown boots, not the black ones. Red dirt just looks like rust on black boots.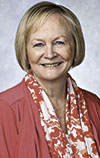 Lynn Jaynes

Editor
Progressive Cattleman
PHOTO: Producers weigh bull-buying options at the Wichita Falls Farm & Ranch Expo production sale. Photo by Lynn Jaynes.