It was a scene straight out of a 1950s western. Tall saguaro cacti stood guarding the vast desert just outside of the booming metropolitan area of Phoenix. Sprinkled few and far between were what I believed to be olive and mesquite trees, and sand, lots and lots of sand.
From afar it looked quiet, rugged and hot. In fact, if it would have been 10 degrees hotter, this Idaho gal might have spotted the Duke himself "blazing a trail" to the 2018 NCBA Cattle Industry Convention.
Once inside the convention walls, the Arizona landscape didn't stop there. A backdrop of the Grand Canyon, more cacti, and (eye-rub) was that a man playing the guitar on a horse in the trade show? Did I just see Gene Autry?
I suppose in an effort to keep the Southwestern desert vibe inside, water during the convention was a delicacy akin to the leftover beef cuts we send overseas. There was wine, tea, beer and beef aplenty, but rarely cool, clear water.
Could there have been a shortage? Maybe. Could there have been a special drink ticket I didn't know about? Sure, that's likely. But once I gulped the last minuscule drop from my canteen, I knew it would take more than a quick eye-rub to clear the illusions of John Wayne and Gene Autry.
During my search for the Spanish term "agua," I noticed a long line of ranchers weaving in and out of booths – several with a longneck bottle already in hand. "That has to be it," I thought to myself. "They have to be standing in line for water." Slowly putting one foot in front of the other, I made my way to the line, only to find the Pioneer Woman signing a free copy of her cookbook.
No, I promise it really was her!
Parched and about ready to opt for something else, I stumbled upon booth #1149 – Ritchie Industries livestock waterers. Two blisters, cracked lips and one mirage later, it was all I could do to hold myself back from dashing toward what I now know would only be empty waterers.
But then, there it was, the waterer above all waterers – the Ritchie waterer for their two-legged friends. It's big, it's yellow and it's free. I am not sure if attendees were taking pictures of this heavenly sight or if it was the sight of this slightly crazy lady guzzling more than half her bodyweight.
Jokes aside, walking the trade show and convention with like-minded people is always refreshing. Occasionally I'll bump into folks from my hometown, friends from college, another rancher I met at another convention, a blogger I feel like I know or a rancher who welcomed me to their home to write their story and share a hearty lunch.
While fun times were had at this year's NCBA Cattle Industry Convention and Trade Show, just know if you're ever in Phoenix, you'll have to bring your own water.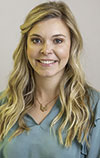 Cassidy Woolsey

Editor
Progressive Cattleman
PHOTO: It wasn't a mirage, and it wasn't a cattle waterer. But it was the oasis needed by this parched author after a long day on the floor of the NCBA convention trade show. Photo by Cassidy Woolsey.