Let me start this year's Thanksgiving column by admitting that our family won't be cooking a traditional meal come Nov. 25. The household has thinned over the years, and my wife and I have soured over the commitment to cook for eight hours only to eat together for 30 minutes.
But this holiday doesn't require a 3,000-calorie meal to show gratitude. The past year or so has been filled with its share of events that were worth forgetting. Through those challenges, good people emerged to provide great help and blessings.
To all those doctors and nurses who jammed 10-inch cotton swabs up my nose multiple times this year, thanks for being so thorough. Seriously, has there ever been a time to be more grateful for front-line medical workers? Doctors have come to my aid steadily over the past few years, and this year they went the extra mile to keep me healthy.
To Brandon, the junior golf instructor. Thanks for looking out for our son in a situation where he was bullied on the course. He enjoyed your instruction, friendship and concern, and you gave him an example to follow in defending others.
And to Zach the senior golf pro, thanks for fixing my drive. I'm now consistently hitting below 100. Q-School, here I come!
To our veterinarian Dr. Green, thanks for double-checking your intern's original diagnosis. You're right, it wasn't a brain tumor, rather vestibular disease that needed the right medication. Because who can afford to pay for a CT scan on a dog? As all you readers know, there's few who deserve more thanks than the trusted vet.
To the police officers who were there for our family member, you were sympathetic listeners and most tender at a time of great pain. Bless you and all law enforcement who protect and defend us.
To the local funeral home directors who helped me take care of several friends I've lost in the past year, I don't know how you guys do it. I get opportunities at church to help a lot of families when the end arrives for loved ones. My appreciation for these professionals has grown immensely. They cut costs for financially strapped families, traveled extra distances, worked overtime and showed the sixth sense of sympathy in abundance. And to Mike, the one who helped me arrange for Mom, thank you good brother, may the Lord smile upon you always.
A key teaching I've learned this past year is this: "God delights in mercy and does not begrudge its use. … To love mercy as God does is inseparably connected to dealing justly with others and not mistreating them." (Dale G. Renlund, Do Justly, Love Mercy, and Walk Humbly with God).
At a time when the world preaches for justice, I am grateful for the mercies shown to me by others in kind acts of understanding. I hope through life I can more easily give the same.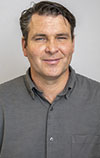 David Cooper

Managing Editor
Progressive Cattle