Our oldest child is 17. What if she wants to come back to the ranch after college? What if our other kids do too?
Many want to come back to the family place, but there isn't room or enough to support them, especially if they end up with families of their own.
With the average age of the rancher being 58, according to the Department of Labor, promoting the longevity of agriculture is critical.
Some kids work off the ranch … basically waiting until a parent or grandparent passes away to make room for them. It's quite a morbid reality.
How do we as ranchers create successful space and desire in younger and upcoming generations to pursue agriculture?
We've heard that younger generations do not want to go into agriculture because of the long hours, the lack of vacation time and the meager pay.
Some have an innate passion for agriculture, have been driving tractors since they were 5 and can't imagine doing anything else. These will return after high school or college because agriculture is "what they do." They'll put in the long hours and ride the rollercoaster of ag markets. However, the past couple of decades have proven that this group isn't large enough to keep agriculture young.
What can we do to promote agriculture?
• Not be grumpy. We make jokes about yelling at cows, but the truth is yelling isn't good for cattle cortisol levels and it isn't good for our kids. Who wants to sign up for a profession that leaves you angry?

• Make time for family. Granted, some of our best family outings are checking cows with a picnic lunch. However, having "free" time shows that we run the ranch instead of the ranch running us.
• Find out who the next generation is. Discover what's important to teens and those in their 20s, and be willing to learn new methods, research different topics or try suggestions.
• Be a relational teacher. While being open to new ideas, we also need to share information we know. Millennials are strongly relational. They want to know how their story interconnects with yours. Building relationships communicates to the younger generation that they're valued.
• Be creative. Our profit margin may not be sustainable with simply selling weaned calves. Maybe sell direct-market beef in your local community. Perhaps you can sell extra hay. Could you benefit from retaining more heifers?
• Diversify. Can you put up a green house? Perhaps share a crop with another rancher? Consider your interests, talents and obvious selling points. Consider the talents of the children; perhaps they have a skill that will expand revenue without expending excess resources. Each producer needs to know his or her strengths, weaknesses and have an objective.
• Do more with less. Recently, I spoke with Dr. Terry Klopfenstein from the University of Nebraska. He said if he could encourage one thing, it would be, "if you can graze it, graze it." He stated natural production saves time, fuel and machinery costs. Consider ways to use resources to their highest potential to make room for the next generation.
None of us have the perfect answer; it'll be specific for each family and their location. We are in this together – all of the above ideas are things we are processing for our own family's journey. As first-generation ranchers, we are trying to establish a place for our family, with future generations in mind. I'm sure most of you would agree, that if we can pave a way for those coming after us, especially our kids and grandkids, our efforts are all the more worthwhile.
Marci Whitehurst ranches with her husband and three kids in southwest Montana. Her Across the Fence blog offers a unique viewpoint about life, livestock, cowgirl lingo and family bonds strengthened on the ranch.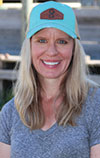 Marci Whitehurst

Cattle Producer
Montana
PHOTO: Will her dreams of ranching be attainable? Photo by Marci Whitehurst.