We always like to have a dog or two around our place. We'd really like to have a good dog or two around our place, just to try it out and see what it would be like. We have actually tried it once or twice, but it has been a short-lived experiment.
I'm just like anybody else. I get attached to my dogs. But there truly seems to be a negative correlation between either the dollar amount spent on a dog or his actual savvy and working ability, and his lifespan. And it doesn't seem to matter if you're counting in dog years or real time, the earthly sojourn of the good ones seems to be a much shorter journey than that of the knot-headed mutts.
My current canine conundrum is this: I have one dog, Newt, who seems to be a complete imbecile. He seems to have a lot of instinct, and he'll herd chickens around the yard all day long. But when we are working cows, all he will do is circle to the front or stand in the gate. I have absolutely no handle whatsoever on him. Donald Trump and Nancy Pelosi have a better working relationship than Newt and I do.
We have another dog. Her name is Goose. She is an Idaho Shag, and she shows a little promise. She's a little bit too needy in the affection department, which drives me crazy, but at least she wants to work, and she pays attention when I holler at her. We've had her for a couple of years, and we have been lucky up to this point. She's never had a litter of pups, nor do we want a litter of pups.
Newt is so named because of the operation he had when he was a pup. Frankly, the most practical use Newt has been to me is heat detection. He is a pretty good gomer bull. He lets me know when Goose is coming into heat so I can lock her up for a few days, thus avoiding a litter of pups by any number and combination of my neighbors' dogs. We've been lucky so far and have evaded the danger of our place becoming a canine maternity ward.
Besides my penchant for collecting dogs of inferior intelligence, I have another weakness or two. One such weakness is my attraction to community auctions. Every kid in the county, whether they are in the choir, 4-H, FFA, rodeo club, dance or drama, can find me quicker than Bruce's Blue Heeler can find my female dogs when they're seeking male companionship. And here is the juncture of my two tales.
Last fall, at the junior market sale at the county fair, my wife warned me we couldn't afford to buy a lamb or a hog or a steer or a rabbit or any other creature this year. I would have to learn to keep my charity in check, she said. True to form, however, I couldn't avoid the temptation of bidding just one more time, and I ended up buying a lamb. The sale committee probably dreaded my actions as well, since it took me several months to finally get my account settled.
That is a backdrop for my latest philanthropic blunder. The high school rodeo team was holding its annual community dinner and auction. My wife and I bought tickets for the dinner, but she was keeping me on a short leash. Under penalty of death, or something very near to it, I was warned to buy nothing at the auction. I restrained myself as I watched a silver bit and headstall go for what I was sure was well under their true value.
I quietly held my hands in my lap as they auctioned off the quilt with brands from local ranches stitched into it. I was the picture of self-control when a certificate from a local county veterinarian, offering a spay or neuter procedure or a horse teeth floating job came up for bid.
Nobody would bite at $25, so I figured I'd get things rolling. My wife jabbed me with a sharp elbow and gave me an equally sharp death stare. From across the gym, I saw Brandon nod his head to continue the run. In all my wisdom, I figured I had a live one. Brandon's daughter is the reigning girls' district all-around champion, he has more horses than the BLM adoption program, and there are always at least five dogs on the back of his flatbed. I was in no danger of getting stuck with this deal.
I was certain I'd be OK up to at least $200. My heart was gripped with fear, however, as he shook his head at a $125 bid. I was the new owner of a certificate from Dr. Trevor Stapelman for the promise of rendered services. I knew I was in trouble. My wife simply handed me the checkbook and raised her eyebrows as she stared right through me.
"Well," she said, "I hope Trevor knocks you out before the procedure. But we should still get that dog spayed."
I wonder what she could have meant by that. I don't need to have my teeth floated.
PHOTO: Goose. Photo by Paul Marchant.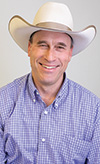 Paul Marchant

Writer
Progressive Cattleman