Despite my mostly deserved reputation for tardiness, I was on a pretty good roll that morning. I had most of the feeding done by the time Mr. Sunshine finally eked his lazy head over the snowcapped peaks to the east.
I surmised that the sun had seen the weather reports and was no more eager than I was to face the incessant springtime winds that were forecast for the day. Even at that, when the first bright, welcome rays of the day hit the feeding ground, it seemed like it would be a good enough day, since the wind wasn't due to arrive until about 10 that morning. And, besides, I was at least 20 minutes ahead of schedule by then, well on my way to the Minidoka County fairgrounds where I was scheduled to help judge the queen contest for District 6 of the Idaho High School Rodeo Association. The last time I was anywhere close to being a half hour early for anything was my birth, an event for which I unexpectedly arrived nearly four weeks early.
As I turned east off Highway 27 and onto 500 South, I gave myself a mental pat on the back. The judges' meeting was scheduled for 8:30 a.m., and I was on track to arrive just a few minutes after 8. I figured I could use the thirty or so minutes as some sort of time credit I could cash in the next time I was half an hour late to something. I wasn't exactly cruising on Route 66, but I had an old Brooks and Dunn tune cranked up to 11, and I was flying down the highway.
About half a mile up the road, as I squinted into the sun, I could see a big old spreader truck pull onto the road from one of the big dairies that dot the landscape just southwest of Declo. He was no doubt on his way to spread a little organic sunshine of his own. I half grinned at my not-really-clever little witticism, a grin that was cruelly washed away by the freezing-cold wave of reality that hit me as I passed the truck. Behind the truck, hidden from my earlier view, was one of Idaho's finest, a member of the Idaho State Police. I instinctively tapped my brakes to bring my speed a little bit closer to the posted limit, but as I suspected, the black Charger flipped a quick U-turn as the blue lights started to dance in my rear-view mirror.
The officer seemed like just a kid, probably because he was just a kid. He was a friendly guy, and as we exchanged pleasant banter, he quizzed me as to what kind of a queen pageant I could possibly be qualified to judge. He seemed a little less incredulous when I informed him it was of the rodeo queen variety. I suppose the calf puller, tractor tire and collection of old halters in the back of my pickup gave him pause when he considered my story in answer to his question as to where I was headed in such a hurry.
We seemed to hit it off, so I was hopeful my new friend would find it in his heart to "let this one slide." Maybe he'd only give me a warning. But, as I found out, 75 in a 55 and a four-month-past-due registration are apparently too much for my charm and feigned bumpkin innocence to overcome. It would take nothing less than two Benjamins, an Andrew Jackson and a Lincoln, donated to the Cassia County Magistrate Court, to placate the heavy hand of the law this time.
Even with my unexpected delay, I was still on time for my judging duties. As I stood outside the 4-H building and relayed my tale of woe to some of my fellow judges, Amelia came sauntering up with a nice, steaming hot cup of feedstore coffee in her hand. Amelia works at my neighbor's horse outfit and lives just a mile or two up the road from my place, and, as it turned out, she was there as a queen contest judge, too.
"I was in a panic when I drove past your house and saw that you'd already left," she wryly commented, alluding to my reputation as the guy who's rarely on time. "I figured I must really be late. I was sure glad that cop got you, 'cuz I was flying when I went past, and my signal lights and brake lights don't work. Besides that, I've had three tickets in the last month. And, even better, since I knew I was ahead of you, I had time to grab my morning coffee that I'd missed out on earlier."
"Glad I could help," I offered. "I'm always eager to help out a neighbor in need."
Paul Marchant is a cowboy and part-time freelance writer based in southern Idaho. Follow him on Twitter, or email Paul Marchant.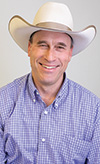 Paul Marchant

Writer
Progressive Cattle