Farmers have their brand of tractors, and cattlemen have their breed of cattle.
Some of these loyalties can't be explained, but for the Kempfer family of Deer Park, Florida, the Brahman breed is a family tradition that works. Or, better yet, it's how the breed is managed in both their commercial and seedstock programs that works.
"I love 'em," says Henry Kempfer, fifth generation. "But I will be the first to tell you [Brahmans] aren't perfect. We're still trying to do a lot to improve them, but we feel there are different traits in the Brahman breed that we can't do without in our environment."
Unlike many cattle operations in Florida, Kempfer Cattle Company has diversified into seedstock and commercial. Running close to 3,000 mama cows, their commercial program has been the backbone of their operation for more than 120 years, with seedstock being introduced in 1978. Today, the ranch is owned and operated by Billy and Reed Kempfer and their families, which make up the fourth, fifth and sixth generation.
"It was getting difficult to find outside genetics that worked for our program, so we started raising our own bulls for our commercial herd," says George Kempfer, fifth generation. "As we got more involved in the carcass side of things and a little more progressive in fertility, having better udders, keeping the frame size down – next thing we knew, we had a pretty decent demand for our Brahmer bulls."
For several years, the Kempfers have used an intensive three-breed crossbreeding program in their commercial maternal and terminal lines, which of course includes Brahman. Slightly different than the typical three-breed rotation, where a third breed is added to a two-breed rotation, the Kempfers shake it up a bit by adding Brahman back in every other cross.
"We just felt like in the traditional three-breed system we were getting too far away from the Brahman breed by the time we would get that third cross," Henry says, explaining their use of Angus and Shorthorn in their crossbreeding system. "Basically, heavy Brahman cows get Shorthorn and Angus bulls, and their offspring get Brahman bulls. If they stay in the maternal herd, the Shorthorn- and Angus-sired females, no matter what, always go back to a Brahman bull. Those that don't stay in the maternal herd are bred to a Charolais bull for a terminal cross."
Early on, the Kempfers used Hereford instead of Shorthorn in their crossbreeding program. They had tried Shorthorn in the past, but they were getting dinged at the sale barn and by order buyers for off-colored calves with a bit of roan or some white to them. It wasn't until they started marketing their own calves that they decided to make the switch from Hereford to Shorthorn again for their fertility and carcass quality traits.
"We were always discounted no matter how good the calves were just because of color," Henry says. "But after we started doing our own marketing and dealing directly with the feedlots, we learned that they didn't care about color as much as they did about quality. We market all of our calves now based on quality, not color."
To get a pulse on their quality, the Kempfers' calves are fed in feedyards where carcass data is collected, and the Brahman-sired steers are DNA-tested for parentage to where they run tenderness and performance tests. While the Brahman breed isn't necessarily known to shine in the feedlot, the Kempfers are acceptable in quality grade, and it is not uncommon for the Kempfers' calves to be above their plant's average.
George says, "If you want to know how good your cattle are, you need to feed them."
Their advantage
The Kempfers see being in the seedstock and commercial sector as a huge advantage. Not only does it diversify their business to some degree, but it also helps them make better breeding decisions. After all, they're not looking to produce show cattle; they're striving to produce quality cattle that will thrive in their environment.
"Everything in moderation" is the Kempfer motto, and by that they mean: moderate frame, moderate size and a wide spring of ribs. Billy Kempfer, fourth generation, explains that Florida may have an abundance of forage, but the quality of that forage is low. Therefore, they need cattle that have the body capacity to handle a lot of forage but don't have as high of maintenance requirements as some of the bigger cattle seen in the industry today. "We like to say we're raising beef cattle, not elephants," Billy says.
Keeping their cow size down remains a big challenge for the Kempfers. George says, "Especially when you cross the Brahman breed, you're going to get more growth than what you need. So we don't necessarily select for high EPDs; we select for functional cattle with balanced traits and capitalize on heterosis."
George says he is proud of the production they are able to get out of the cows. While they might not be a "leave the bulls in year-round and check on 'em once a year" type operation, he considers his cow herd to be low-maintenance but still high-performing. They breed 90 days, and most of the calves are born 45 to 60 days, depending on winter conditions. The cows are supplemented with molasses and sometimes cubes – but never both.
"Not many ranches in our area feed as little as we do and still get the performance we are able to get. I think we get a lot out of them for no more than what we put in them," George says.
Carrying on traditions
The Kempfer family is in a position now where the sixth generation is looking to come back to the ranch. Over the years, the family has added several ventures to their portfolio, including a sod company, a sawmill with cypress and pine timber operations, and a ranch located in Mississippi for their replacement heifer development program, but they continue to look for ways to expand their cattle business for those family members with an interest.
"I was just thinking the other night: 'What are we going to do with all these kids?" Billy says. "We've got to expand the operation and find something they can all contribute to so we can afford to keep them here. I think we have slowly been doing that with the addition of our purebred herds and our replacement heifer program in Mississippi. It's exciting for me to see at least one more generation want to continue ranching."
Competing with developers for land is hard for ranchers in Florida, and growing the ranch land-wise isn't always an option. The Kempfers believe that if they can't necessarily get bigger, they can get better, and that is manifested in their genetics and the work they have done to enhance carcass quality in the Brahman breed.
"Quality still sells," George says. "We are always trying to make our cattle better and more profitable. I think you can never be complacent with where you are. You always need to be trying to improve."
PHOTO 1: A Shorthorn-sired cow is pictured with a Brahman steer.
PHOTO 2: Low-stress cattle handling is important to the Kempfer family and was one of the reasons they were selected as the National Beef Quality Assurance award winner in 2013.
PHOTO 3: Henry Kempfer leads cattle to a different pasture rotation.
PHOTO 4: Purebred cattle are a small, but important, part of the Kempfer operation.
PHOTO 5: Wade (Happy) Kempfer, sixth generation, works cattle on horseback.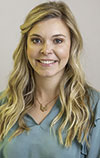 Cassidy Woolsey

Editor
Progressive Cattle