So the story of Josh Eilers goes like this: Eilers, then a 21-year-old student at the University of Texas and a returned U.S. Army Ranger, is sitting in a bar and chatting with an attractive blonde.
On the other side of the woman is another guy, boasting about his loose wallet and his taste for expensive steaks.
"He tells her about this hundred-dollar steak he ate the other night at some fancy restaurant," Eilers recalls, "And I say, "'Where do you pay for a hundred-dollar steak?'"
It's at that point Eilers learns about the Wagyu breed – and their steaks with a penchant for marbling and high-dollar returns. Although he doesn't walk out of the bar with the girl on his arm, he does leave with an idea of his new business venture.
Six years later, Eilers, 27, has a growing full-blood Wagyu cow-calf operation, Ranger Cattle. Much of his success is focused on an independent marketing campaign that's given his beef a rising star quality in the city of Austin.
By establishing key marketing arrangements with restaurants and buyers in the Austin market, he's settling into a growing niche and higher demand.
Eilers is also a familiar face from his appearance on TV commercials. He started his small herd of 16 bred heifers in 2011 (just as the drought in Texas was starting to end). He has grown to 150 head of full-blood cows, with three service bulls, all spread on various private land leases around Austin.
A portion of the herd is also grazing land in Missouri.
A little help from friends
Eilers' jump into the beef industry is also a testament to the widespread generosity and support a new producer can find in getting off the ground.
From the moment he bought his first cows, Eilers had insight and expertise provided to him from breed association members, landowners, banks, equipment companies, the Veteran Farmers Coalition and a host of extension and university experts.
"It just seems like a lot of older guys wanted to see a new cattle company be successful in the Wagyu breed," Eilers says. "It helps get the name out there and get everyone on board with it. And everyone can see and taste the differences in the steaks.
"Even our competitors in Wagyu helped us out a bit and took time to take calls and talk to us. We try to give them credit as much as we can. Priefert and the Veteran Farmers Coalition, they bought me a brand-new squeeze chute. It seems like everyone wants us to succeed.
"It's like a community wrapping their arms around us, asking, 'Hey, how can we help you out?'"
While Eilers didn't grow up in the cattle industry, his decision to start cattle production was more than just a whim born in a pub. Coming back from three tours in Iraq and one in Afghanistan, and attending University of Texas, Eilers was studying human biology. Thanks to good timing, his small herd was making money as the drought of 2011 ended and cattle prices began to spike.
Suddenly Eilers realized his small herd could become something bigger, if he put more focus into it. "I was re-investing everything into my little herd that I had on the side. I'm building that thing ever year and holding back my females and selling steers. Not taking it really serious.
"Then my senior year, I'm like, 'I could think of taking this more serious or getting a real job.'"
Eilers stared taking entrepreneurship classes, including one that required him to build a fictitious company. The professor allowed him to use his growing cattle company as a real company model instead.
When the class had a contest to see how students could pitch their models, Eilers won. That earned him seven student interns to help him market and advertise his business.
"Those seven interns did a beachhead approach in the city of Austin," Eilers says. "We talked to every restaurant who was going to give us a chance. We didn't even have animals ready to kill at this time; everything was out in pasture and some seedstock."
A market for Ranger Cattle
Eventually, they landed deals with a couple of restaurants and some farmers' markets. In the meantime, Eilers continued asking questions about cloning, reproduction rates and embryonic transfer. Before long, it was the university staff pushing more out of Ranger Cattle.
"The professors took a vested interest in me, and the university was backing it, loving the idea of helping. Soon they began helping crunch the numbers and telling me to go talk to a possible investor."
Another mentor whom Eilers credits with his smooth start into Wagyu beef production is Bubba Kay, owner of the Kay Ranch near Austin and a pioneer in the early days of Wagyu presence in the U.S.
"From dehorning, vaccinating, to marketing on a national or world level, or just on how to approach a restaurant or Whole Foods, he's my most valuable resource," Eilers says. "He says the number one rule is to raise good animals. You can only be so busy in your day.
So don't run 100 head if you don't have time; run 10 head. And you're going to make more off 10 good animals than you are off 100 commercial animals."
Kay was one of the sources who helped Eilers locate grazing allotments in the Austin area, where he now leases a total of 1,700 acres on various properties.
He weans calves at 8 months, puts them back on pasture around 500 pounds with supplemental feed until they reach 800 pounds. Then they go to the feedlot for a target of around 1,350 pounds.
Eilers retains ownership on all calves, doesn't use antibiotics since it enhances his niche marketing to Austin buyers and still adheres to the best Wagyu genetics he can afford.
Ranger Cattle beef hit prime carcass targets so frequently with its Wagyu genetics, Eilers says he began revising his marketing goals to accommodate his local buyers.
"We've shipped all over the nation, but we try not to because it's so expensive," says Eilers. "I did a commodity chain project in college, asking what's happening to my calves after I get rid of them. And they were turning up in New York City and Boston and D.C.
"I don't like that too much. We're raising these animals and doing all the hard work, and we're feeding fancy people in D.C. We're making a great product, so let's keep that product local.
"That was the pitch: to make a beachhead approach in Austin. Once you tackle Austin market, then you can expand. So for now, we're only at the level we can really supply one steakhouse."
That steakhouse is the Driskill Hotel, Austin's historic landmark with a dry-aging facility in the kitchen.
Chris Ingmire, sous chef at the Driskill Hotel, says the typical consumers walking through the hotel doors want to know where a steak comes from. "So here we can talk about the location and the relationship to the producer.
When they come in here, they already know what they're looking for in cuts, be it the filet or the ribeye. But you want to know his background, where he's from and what he stands for, so we can stand up for the meat as well. We have the pride in serving that along with the experience."
Since it's Eilers' favorite destination, seeing his steaks as the highlight entrée on the menu is all the reputational reward he needs as he starts out making his name.
"It's cool we're supplying the coolest steakhouse in the state."
Since Eilers is now selling the high-priced steaks, it doesn't bother him that he's long forgotten the woman in the bar that sparked the entire steak conversation.
"I never heard from her again," he laughs. "It was kind of nice, though. At least something good came out of that bar."
PHOTO 1: Josh Eilers shows some of the herd at the working facility leased outside of Austin.
PHOTO 2: Josh Eilers feeds range cubes to cows on pasture outside of Austin, Texas.
PHOTO 3: The strip loin dry-aged at Driskill Hotel Grill. Photos by David Cooper.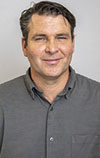 David Cooper

Managing Editor
Progressive Cattleman