Avery Parrish and his wife of 59 years, Raye, call Saluda, South Carolina, home. Avery describes himself as a "jack of all trades and master of none."
Over the course of his 82 years, he's worked a variety of jobs. He started out in the textile industry, moved on to merchandising, then to selling building materials to contractors, which led him to becoming a contractor himself.
Eventually he obtained his real estate license, and he's been involved in buying and selling land for several years. Through it all, the one constant for Avery has been his cows. Fresh out of high school, he bought his first calves from the auction yard in Edgefield. Cattle have been an important part of his life ever since.
Up until the fall of last year, when poor health forced him to liquidate his herd, he maintained a herd of around 100 cows. But cows are in his blood, and he's already started to rebuild his herd with four Black Hereford heifers.
Parish could well be the poster child for South Carolina beef producers, who may not maintain large individual herds but are nonetheless as fiercely passionate about the beef cattle industry as any of their cowboy counterparts to the West. He talks with confidence about his cattle and how most years he's able to maintain the herd with no supplemental hay. He says he's been able to count on the old reliable Kentucky 31 fescue as his main forage source.
Built from scratch in Ridge Spring
While he's reticent to accept any praise for his successful longevity in the cow business, Avery is quick to point out the achievements of one of the crown jewels of the South Carolina cattle family, Yon Family Farms, some 15 miles to the south of Saluda, in nearby Ridge Spring.
Kevin and Lydia Yon, a pair of Clemson graduates, on their own built from scratch one of the largest registered herds in the country. They raised a daughter, Sally, and two sons, Drake and Corbin, while developing their operation into one of the most recognizable names in the Angus breed. They annually market around 400 Angus, SimAngus and Ultrablack bulls and 200 females through their sales held each spring and fall.
They also retain ownership on their commercial steers and heifers, which are fed at a Kansas feedlot and sold on a value-based grid. Recently, the Yon family has expanded into the pecan business, where they own and operate The Nut House & Country Market, specializing in pecans, gourmet pecan candy and pecan pies.
Through their hard work and singular visionary determination, Kevin and Lydia forged a dream into a thriving business they now share with their children. All three children have also graduated from Clemson and returned to the farm full time; Drake with his wife, Nicole, and Sally with her husband, Reid Harrison.
Understanding Carolina trends
Christopher and Cassie LeMaster are the embodiment of the spirit of the South Carolina beef industry. While both work as extension agents in the Clemson University system, the married couple also refer to themselves as "flashlight farmers" who, like the majority of cattle producers in South Carolina, finish their chores in the dark after returning home from their 9-to-5 jobs.
They're careful, however, not to label themselves and others like them as "hobby farmers," as South Carolina cattlemen take pride in running productive farms on smaller acreages.
As extension agents, Christopher and Cassie both have a finger on the pulse of the livestock industry in the state. They point out that, although there are some prominent purebred producers, as well as a few large stocker operations, South Carolina is predominantly a cow-calf state.
Like much of the Southeast, most calves in South Carolina leave the farm at weaning and head west to a backgrounder or feedlot. They note with an average herd size of around 30 cows, the challenge of grouping uniform cattle into load lots often arises.
Since these smaller herds often have a great deal of variability among them, producers frequently form cattle alliances to breed similar genetics, match breeding and calving dates, and develop co-marketing strategies.
Matthew Burns, Clemson Extension beef specialist, is currently working with the American Simmental Association to develop expected progeny differences (EPDs) for small commercial cow-calf producers. Having this production data will provide South Carolina with management benchmarks for the Southeastern environment.
Grass from all corners of the state
According to the LeMasters, a point of pride for South Carolina cattle producers is their forage production capabilities. The climate allows them to grow forage nearly year-round and utilize much heavier stocking rates than other parts of the country.
Many of the top cattle producers boast they are also great grass farmers, utilizing rotational grazing strategies, stockpiling and annual forages to reduce their need for stored feeds. Although South Carolina is a small state, there are two diverse forage regions. The northwestern half of the state is in the lower Tall Fescue Belt. Many of these pastures contain perennial mixes of fescue, common bermuda, clovers and often some annuals such as crabgrass.
Toward the coast, you'll find bermuda, bahia and great opportunities for winter-annual grazing. Although tall fescue grows in abundance upstate, the humid summers, compounded with fescue toxicity, often lead to long, stressful summers for cattle. Many progressive producers see the merit in planting novel fescue varieties and utilizing other strategies to minimize heat stress.
This northern portion of the state is where the majority of the state's cattle are produced, but that doesn't come without the additional challenge of combating urban sprawl. Having cattle farms scattered among subdivisions and urban areas restricts farm growth, as open land in the state is lost to development at staggering rates; however, it has also given many some unique direct-to-consumer marketing opportunities for their beef.
The LeMasters proudly note South Carolina's cattlemen are a tight-knit group and, as Burns points out, it's easy for allied industry and extension professionals to develop relationships with producers. Those within the agricultural extension system in the state feel blessed to have exceptional working relationships with the many local cattlemen's associations.
"Even if Clemson is not their alma mater," says Burns, "our producers recognize the land-grant school as an excellent resource to the state's cattle industry."
Christopher LeMaster seems to capture the essence of the South Carolina cattle industry when he states, "While South Carolina may not be like the big cow states, working as an agent in a state where you can start the day off on a farm in the Blue Ridge Mountains and end it on the coast certainly has its benefits."
PHOTO 1: The seasons provide plenty of moisture and year-round grass for stocking rates in South Carolina. Staff photo.
PHOTO 2: New calves enjoy the summer-calving grass at Yon Family Farms. Photo by Paul Marchant.
PHOTO 3: Females on the Yon Family Farms ranch in Ridge Spring, South Carolina, reflect the years of effort many seedstock producers have built to refine top genetics. Photo by Paul Marchant.
PHOTO 4: Christopher and Cassie LeMaster, both cow-calf producers, are also Clemson University extension agents. Staff photo.
PHOTO 5: Like most rural areas, South Carolina is seeing sprawl from subdivisions come close to the pastures that raise critical forage and grasses. Photo by Cassidy Woolsey.
Paul Marchant is a columnist, writer and editorial adviser for Progressive Cattleman. He lives in Oakley, Idaho.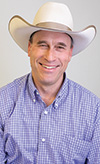 Paul Marchant

Writer
Progressive Cattleman