In 1992, beef carcasses at Tyson Foods had four sorts at the packing plant. Just four. A Select grade carcass wasn't even among the sort criteria.
Kevin Hueser has worked with Tyson Fresh Meats Inc. for 34 years. And today, Hueser said, Tyson plants have 87 carcass sorts. That's 87 ways a carcass can be classified according to the various 37 programs demanded by consumers and the industry. What happened?
Hueser, presenting at the U.S. Cattlemen's Association annual convention in Billings, Montana, said the retail industry is really fairly consolidated with conglomerates like Costco, Walmart, Kroger and Albertsons. Each are concerned with economies of scale and narrow margins, and in that market each tries to differentiate their products according to perceived consumer demands. So even though it may cost the customer more, Tyson adapts to meet the demand.
Today there are a wide variety of packaging programs, like Star Ranch Angus brand, which includes only black-hided animals. There's also Open Prairie Natural Angus and Certified Angus Beef on the list. In addition, strong regional programs have popped up across the nation. The Pacific Northwest boasts regional programs in the natural beef arena. One retailer in the Midwest requires meat supplied from north of Interstate 80. Texas has Texas Meat that carries that state logo. And there are so many more – each requiring specific sorting requirements at the packing plant.
Do consumers even know what they want?
In a consumer survey conducted by Tyson, nine of 10 consumers wanted to know where meat comes from, seven of 10 wanted to know what ranch or farm it came from, and more than six of 10 wanted to "track meat back to the specific animal."
When Tyson asked consumers to rate what information was important to them regarding meat cuts, they responded their top preferences (in order of importance) were: all natural, no added growth hormones, grass-fed, from local farms, no antibiotics, good animal welfare and pasture raised. An increase to 37 different meat programs does indeed reflect what consumers say they want.
Disappearance of the meat counter
Have you noticed an absence of meat counters in grocery stores? Another change in retail stores has been a decrease in meat counters and expanded presence of case-ready products. These are products the packing plant puts together for retailers, which includes cutting and wrapping individual cuts. Why is the packing plant cutting the meat instead of individual store meat cutters? Hueser said there aren't many left who want to work behind a meat counter these days, and more importantly, the skill doesn't exist anymore. Stores are giving up the space formerly used by meat cutters and turning it into more meat cases.
Packaging
And meat packaging has changed. Hueser noted several packaging options available today, including modified atmosphere packaging (MAP), where a mixture of natural gasses in controlled proportions is used to significantly slow the decaying process. Basically, if the packaging has a headspace between the wrap and the meat, it's MAP packaging.
Then there's overwrap – motherbag packaging and vacuum packaging using multivac and cryovac processes. These maximize shelf life and reduce shrink. But all come with a cost.
Online orders and meal kits
Another change in retail sales has come about because consumers don't necessarily want to walk the tiled aisles anymore. E-commerce sales are projected to be $30 billion across food and beverage industries by 2022, with a 5 percent market share. Online grocery ordering and meal kit services such as Blue Apron, Home Chef, HelloFresh and others have also exploded.
There are "click and collect" online ordering sites, where orders are made online and delivered to your car as you drive into the parking lot. Then there's home delivery through AmazonFresh, Peapod, FreshDirect and other vendors. Even independent grocery stores offer online shopping. Hueser said "click and collect" will probably outpace the other options, as "folks feel comfortable with goods coming from a store they're familiar with."
The packer as chef
Hueser noted changes in cooking across America, where people learn to cook from social media instead of through "home ec" classes or from parents and grandparents. When consumers need instruction, they "YouTube it" or imitate something shown on Facebook or Pinterest. And they're interested in buying value-added meats to cook at home – things like burgers packaged with cheese, burgers packaged with mushrooms, seasoned burgers, even meal kits. Tyson provides these. Hueser said, "We've become the experts for cooking."
All of these options for the consumers have requirements for size, grade, color and various other criteria at the packing plant. Hueser said, "With 87 different carcass sorts, we have to have relationships with producers who will provide what we need – what the consumers are demanding."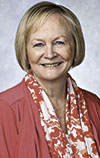 Lynn Jaynes

Editor
Progressive Cattleman
PHOTO: Kevin Hueser explains changes at the retail meat counter to attendees at the U.S. Cattlemen's Association annual convention in Billings, Montana. Photo by Lynn Jaynes.