Cattle producers from around the world gathered in October to learn what makes the U.S. production system unique, especially from a genetic standpoint, as part of the Santa Gertrudis World Congress.
Those attending were all Santa Gertrudis producers, mainly in the seedstock segment. Their travels took them to operations across Texas, Louisiana, Mississippi and Alabama. The group of cattlemen and cattlewomen took in several major operations, including King Ranch, San Jose Cattle Co., Urbanosky Ranch, Wiley Ranch, Quail Valley Farms, Grandview Farms and Wendt Ranches.
The group also toured facilities for STgenetics in Navasota, Texas, the Texas A&M University Beef Center and Trans Ova in Bryan, Texas.
"We love to do these tours; it gets you on the farms, where you don't usually go for a city tour," said Dennis Moxey, a stud owner of Denngal Santa Gertrudis, from Forbes, New South Wales, Australia.
Moxey and his wife, Gail, have won awards for their seedstock cattle and are familiar with many genetic tools shown in the tour.
"We don't think that we've got a lot of genetic improvement to gain from over here, but maybe the outcross would be something to gain," Dennis said. But he appreciates the congress events for introducing producers whose seedstock has new valuable possibilities.
"When you use purebred Santa Gertrudis bulls from another part of the country (or the world), wherever you go, you tend to get a lift in your production if you pick the right bull. So there is something to gain from mixing those genetics and searching around and seeing what's available throughout the world."
David Greenup, president of the Santa Gertrudis Breeders' Australia Association, is a stud operation owner in Jandowae, Queensland, Australia. He and his wife, Sonya, came 25 years ago to the congress, which included a visit to the King Ranch. What they saw this time was even more impressive than the first visit.
"I think King Ranch is much, much better than what it was 25 years ago," he said. "And they're a leader with the breed, and the breed's gone with them to a certain degree. Certainly there's more performance recording, people are more interested in it, but they've got a little way to go to fully understand it some.
"We're particularly into performance recording, ourselves, so the way the King Ranch was doing it is down the alley of how we're doing it. We're probably a little more advanced, not that we have as many numbers as King Ranch, the number of traits we're measuring and the length of time we've been doing it is probably a little more advanced."
Igon Niufild, owner of a polled Santa Gertrudis operation in Filadelfia, Paraguay, had visited U.S. operations for the past five years seeking new genetics and found many changes among Santa Gertrudis seedstock producers, "especially from a big cow type, big bull-type frame score of 7, 8 or 9 and coming down with them to a moderate type," he said.
Productivity goals for those genomics, Niufild said, are built upon market demand. It's common in many countries for producers to buy genetics that sometimes are purebred-based for the show ring. "But the show is not the money," he said.
"All buyers are commercial people, and if we don't sell good bulls that make money for the commercial people, we are on the wrong way."
"The congress has been very well organized. We have some studies and conversations on genomics and cattle breeding and some new technologies."
During one of the tour's final visits at Urbanosky Ranch of Plantersville, Texas, attendees learned genetic improvements made over several years by owner Jerome Urbanosky, including his decision to utilize cloning technology to replicate some award-winning genetics that took the operation to a new level.
Urbanosky detailed his decision to use Trans Ova and its cloning facilities for a prized Santa Gertrudis heifer the family purchased in 2015 that went on to win Grand Champion in the four major shows in Texas.
"We didn't know if we'd relive those glory days or just would have added more of her genetics or adding more identical twins to our operation," Urbanosky recalled of the family meeting where they balanced the goals and costs. "That's why we decided to do it. We didn't know anybody who had done it, we were in very unfamiliar waters, but sometimes that's very exciting, and other times it's very scary. But I'm more of a glass half-full guy and more optimistic and interested in the process."
Urbanosky's cloning decisions made a positive impression on visitors like Luiz Marques Jr.
"We have seen some studies and conversations on genomics and cattle breeding and some new technologies. We're seeing cloning. It's a very good learning experience to see it all," said Marques, from Ibate, Sao Paolo, Brazil.
Marques visited the U.S. with Santa Gertrudis breeders back in 2007 and was familiar with production systems during his years of study at Texas A&M. But each tour provides new insight into new possible improvements, he said.
"What we saw now today is much better than what we saw 12 years ago," Marques said. "I think there was big progress in the cattle quality. And all the ranches we have visited, they have very good sires, very good females, and we are very impressed."
International visitors saw different applications for A.I., in vitro fertilization and cloning, and how it could be utilized back home.
"They do a lot more technology over here than we do, a lot of A.I.," said Gail Moxey of Australia. "We've noticed that farmers are using a lot of A.I., even cloning here. We do use A.I. for a little bit, but this is intensive."
John Freeman from Sannieshof, North West province, South Africa, said both the technology and associations seen during the tour will be helpful resources for his operation. Seeing IVF technology applied "on a big scale" at Quail Valley Farms in Cullman, Alabama, "that's definitely a new thing for us. It's starting new in South Africa. It's still very expensive so we do A.I. a lot.
"South Africa has done genomics and data since '91, and I would like to get the traits from the Americans and get all the data; we'll have the same bonds. And we don't have a junior program, and in America it's a big thing. That's where everything starts there and with the commercial herds."
PHOTO 1: Visitors to the Urbanosky Ranch inspect one of the cloned Santa Gertrudis females developed with Trans Ova.
PHOTO 2: Dennis and Gail Moxey of New South Wales, Australia
PHOTO 3: Sondra and David Greenup of Queensland, Australia
PHOTO 4: Igon Niufild of Filadelfia, Paraguay
PHOTO 5: Jerome Urbanosky explains how data and genetics are being used with bulls developed at STgenetics in Navasota, Texas.
PHOTO 6: Luiz Marques Jr. of Sao Paolo, Brazil
PHOTO 7: John Freeman of Sannieshof, South Africa. Photos by David Cooper.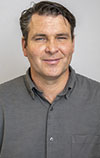 David Cooper

Managing Editor
Progressive Cattleman