Hurricane Florence, heralded by weather experts as the worst storm to hit the Carolinas in 30 years, approached the East Coast as a Category 4 storm and downgraded to a Category 1 storm when it made landfall at Wrightsville Beach, North Carolina, on Friday morning, with winds at 90 to 75 miles per hour.
It has since been downgraded to a tropical depression as it has moved through the Carolinas and inland through the Appalachian Mountains. It is forecast to turn north and east, making an arc through Pennsylvania to pass through New York and New England.
Although the severity of Florence has diminished over the weekend, the real trouble is just beginning. Catastrophic flooding has swept through the Carolinas in the wake of the storm, and storm surges are a major concern all the way up the East Coast to Delaware.
According to the National Oceanic and Atmospheric Adminsitration (NOAA), flash flood warnings are currently in effect across parts of central North Carolina into far southern Virginia, and flash flood watches are in effect across much of North Carolina and South Carolina, portions of Virginia, West Virginia, Maryland, Pennsylvania, New York and southern New England.
The governors of North Carolina, South Carolina, Georgia, Maryland and Virginia declared a state of emergency last week as evacuation notices began rolling out and residents began preparing for the worst. More than 1 million people were ordered to evacuate last week, while farmers and livestock producers were scrambling to complete their harvests and prepare for the coming storm and anticipated flooding.
"During harvest, time is of the essence," North Carolina Gov. Ray Cooper said in a news release. "Action today can avoid losses due to Florence." He also signed a transportation waiver that would allow farmers to harvest and transport their crops and livestock more quickly. Many leaders in the surrounding states took similar measures to make evacuation a smoother, quicker process for livestock producers.
For North Carolina, the landing site for Hurricane Florence, agriculture is the No. 1 industry, valued at $87 billion dollars, according to a Reuters report, so the state is set to sustain some heavy damages from both the storm itself and the residual flooding.
North Carolina is the country's top producer of tobacco, second-largest producer of hogs, a major poultry producer and a valuable source of corn, soy, cotton and other crops. Hog producers have prepared for the storm by lowering the levels of their manure lagoons and doing their best to shore them up in order to avoid a recurrence of events from Hurricane Floyd in 1999 when many lagoon walls failed, contaminating waterways with animal carcasses and waste. So far, the barriers are holding, and similar measures are being taken in neighboring states.
The full impact of Florence cannot be guessed until after the storm has passed, but as floodwaters rise and homes and towns are swept up in the frenzy, East Coast farmers and ranchers stand in need of all the help and prayers they can get until floodwaters recede and the damage can truly be accounted for.
See the latest on Hurricane Florence here.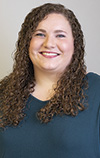 Carrie Veselka

Associate Editor
Progressive Cattleman