Producers in the Midwest are still tallying the damages from the mid-March "bomb cyclone" storm that left a trail of destruction across the Midwest. Rain and snow combined with winds of 65 mph shut down operations in parts of the Dakotas and created catastrophic flooding throughout much of Nebraska and Iowa, inflicting untallied damage throughout the four states.
It will take time for producers to make a full account of all that has been lost, but preliminary estimates hover around $2 billion for Nebraska and $1.6 billion for Iowa. The state of Nebraska reported:
$400 million in potential cow-calf losses


$440 million in crop losses


$440 million in infrastructure damage


$84 million in damage to homes and businesses


200 miles of damaged highway


27 state bridges: six need to be replaced; seven require major repairs; 14 require repair, scour or washout work


2,067 homes and 341 businesses damaged or destroyed
That's not counting the loss of contaminated hay and feed, and the time and expense of hauling water and hay to the few rescued livestock, and of clearing up hundreds of thousands of once-fertile acres now covered in silt and debris or, in some cases, ice chunks the size of mobile homes.
The preliminary count released by the Iowa governor's office a few weeks after the flood reported:
$214 million of damage to the state's agriculture


$525 million in damage to federal and non-federal levees


150,000 acres or more of flooded farmland


1,201 homes destroyed or sustained major damage


23,540 homes sustained minor damage
Receiving aid
The Nebraska Farm Bureau and several other organizations in Nebraska and Iowa have spearheaded relief efforts and the relay of thousands of tons of donated hay and farm supplies to flooded-out producers. Anyone interested in contributing can visit the Nebraska Farm Bureau website (Disaster Assistance) to learn more.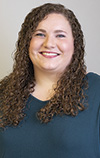 Carrie Veselka

Editor
Progressive Cattleman