Getting the most out of your winter feeding program is important to keep costs down and make sure cows come through the winter in good shape.
Grazing stockpiled forage is one way to reduce costs. Best management practices for stockpiled forage will vary depending on rainfall, snow and the forage species that have been stockpiled.
In higher-rainfall areas, stockpiled introduced forages like bermudagrass and bahiagrass are best when utilized within 45 to 60 days of a killing frost. After about 45 to 60 days, these and similar forage species will start to degrade and become less palatable due to rainfall. To get the most out of these forages, only allow cows access to three to five days' worth of grazing at a time.
This reduces waste and also provides new higher-quality forage every few days throughout the grazing period. A single-strand portable electric fence can be utilized to control how much forage cows have access to at one time. Every three to five days, the electric fence can be moved to allow cows access to new grazing.
In lower-rainfall areas, stockpiled native forages can be utilized for a much longer portion of the winter and, in some cases, throughout the entire winter. These dormant native forages often drop pretty low in crude protein (CP), so make sure to provide protein supplementation when needed to get the most out of this stockpiled forage.
Regardless of environment, when hay is fed, it is critical to control access to reduce waste. The best method is to unroll hay whenever possible. When done correctly, it should result in the least waste. Only unroll what the cows will clean up in one day. If more than one day's supply is unrolled, the cows will often use it for bedding and not clean it up.
Hay rings are another option to reduce waste, and there are numerous types available. In general, hay rings that have vertical stays spaced a few inches apart around the bottom, more rings around the bottom or a skirt will result in less waste.
A downside of using hay rings is: They can result in compacted areas or muddy areas around the ring that can result in less forage production in the future; these feeding areas can often be seen from satellite images. A growing number of deaths have been seen in cows that consumed hay string, so always remove the strings prior to feeding.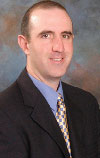 Jason Banta

Associate Professor and Extension Beef Cattle Specialist
Texas A&M University