Nitrate poisoning can lead to significant animal loss, but it is preventable with some general knowledge and testing of forage sources.
Nitrates can accumulate in some warm-season grasses during periods of drought and stress, especially following application of fertilizer. These warm-season grasses lend themselves to fast, rapid growth when conditions are favorable but, during periods of drought, growth is slowed. Slowed growth and utilization of nitrogen allow nitrates to accumulate in the plant. When nitrates reach toxic levels (Table 1), we begin to see problems with livestock.
Symptoms
Nitrate is accumulated in forage, and being ingested at high levels by livestock can lead to death. Nitrate is converted to nitrite in the digestion process of the animal. Nitrite impedes the ability of the animal's red blood cells to bind and carry oxygen to the body. Therefore, the animal will die of hypoxia, and the blood will appear dark brown in color.
Testing
The feed and forage lab in most states can test for nitrates in forage and hay, and your local extension agent can help you through the sampling and testing process.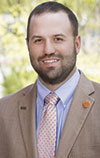 Matthew Burns

Extension Beef Specialist
Clemson University