The National Beef Quality Audit (NBQA) is one of the few ways the beef industry can assess both the fed beef supply as well as the supply of market cow and bull beef. Any savvy cattle producer is aware that the dairy industry plays a huge role in the beef supply. Not only do we see a large number of dairy steers entering the feedlot, but dairy cows also make a career change and ultimately contribute to our country's beef reserve.
Although dairy and beef producers generate different core commodities, we rely heavily on dairymen and women to supplement the beef industry with quality livestock. In previous versions of the NBQA, the dairy cow segment reported concerning results, but it has recently shown significant progress. In the past, it was easy to point to dairy producers for our industry's shortcomings, but when you take a closer look at the data, the dairy segment can no longer be an excuse.
The dairy cow sector's most significant progress links directly to culling management. Improvements in welfare indicators like lameness and body condition score (BCS) are the most notable. For instance, in 2007, only 51.4 percent of dairy cows arriving at packing plants were considered sound. When the same measurement was taken in 2016, that score had improved by nearly 25 percentage points to 76 percent.
Just as significant is the percentage of dairy cows arriving at the plant "too thin." Results in 2007 identified 22.2 percent of dairy cows as having a BCS of 1.5 or less on the dairy BCS scale, but by 2016, that number had improved to 9.3 percent. The beef cow segment also made considerable progress, but because 2007 beef cow data was not as dismal, this group did not have as much room for improvement. Beef cows showed only a 5 percent increase on the lameness charts and only 2.5 percent on BCS.
The vast improvements for dairy cows can be partially credited to the National Milk Producers Federation's (NMPF) development and application of the National Dairy Farmers Assuring Responsible Management (FARM) program in 2009. Part of the FARM program's core curriculum consists of culling management strategies that visually monitor and record lameness scores, knee and hock lesions, and BCS in on-farm assessments. The program, which is now a Beef Quality Assurance (BQA) equivalent, currently represents 98 percent of the country's fluid milk supply and also translates to improved scores for cows entering harvest facilities nationwide.
New transportation data in the NBQA validates the importance of emphasizing culling management and care for compromised cattle in our live animal quality assurance programs. Data reported that pot belly trailers were the primary type of trailer used to transport market cows. The average market cow arriving at a packing facility on a pot belly trailer traveled nearly 400 miles and was on the trailer for 9.3 hours prior to unloading. This attests to the need for continuous producer education on how to make appropriate culling decisions to ensure these animals can withstand the rigors of transport. It's also worth noting that market cows traveled a maximum distance of 1,400 miles, spending up to 39.5 hours trailered.
Considering the average transport time and mileage, it's unlikely that a severely lame or thin cow will handle the trip well, if at all. Luckily, we've made leaps in these areas, and the additional silver lining is that most market cows had enough space while on the load. The North American Meat Institute's (NAMI) care and handling guidelines recommend 12 square feet per hornless 1,000-pound animal, and NBQA data indicated an average of 12.4 square feet per head.
It's easy to appreciate NBQA data when results indicate successes like those in the dairy cow sector, but in order to make meaningful progress, beef producers have to be willing to take a step back, contemplate and make adjustments to our faults. The dairy industry is an admirable example of using data and contributing to a solution. The leaps they have made should motivate beef producers to continue employing management practices that will result in commendable NBQA results, which translate to a thriving, sustainable beef industry.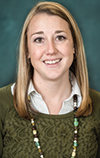 Libby Bigler

Colorado BQA Coordinator
Colorado State University