While tradition in many homes across the U.S. might call for ham or turkey on the Christmas dinner table, discriminating revelers contend that "Beef – It's what's for Christmas Dinner" should be the slogan!
And we're not talking just any cut of beef; prime rib is the best selection for such an important celebration. Why don't more families enjoy prime rib for Christmas dinner or other special celebrations? It might just be that folks can be a little intimidated by this "king" of beef cuts.
I do have a confession to make. I am neither a meat or a family and consumer sciences expert. I am simply a livestock extension educator trained in animal science who has a passion for good meat, and I sometimes joke with folks that I am a closet smoker. For the last two years, I have partnered with a family and consumer sciences educator in my office and a local catering friend to teach a University of Idaho Extension workshop we call Smoking and Grilling Foods.
Selecting
Prime rib, as we call it, is simply a whole ribeye. Prime is actually a USDA quality grade (the highest). Start with selecting a good Choice or better ribeye. Look for evidence of significant marbling on the visible ends. The more small white flecks of fat within the muscle (I like to call them little flecks of flavor), the better. Most "prime" ribs that are prepared might be more accurately named low Choice or Select ribs, as they are not truly Prime-quality grade.
Preparing
Start with trimming. I trim to a very thin (usually about 1/8 inch) layer of fat on the top side and remove any other large pieces of fat. Trim to make the entire ribeye as uniform as possible. This helps ensure that it cooks uniformly throughout. Depending on the ribeye, I will occasionally use butcher's string to help hold it in a more "round" shape to improve uniformity. Follow with a liberal amount of your favorite seasoning. While the choices here are endless, I like to keep it simple. I use a blend of equal parts kosher salt, course-ground black pepper and granulated garlic.
Cooking
Low and slow is the key to good prime rib. I typically shoot for 275°-325°F. My preferred cooking method is on the grill or smoker. I love the added flavor that grilling or smoking provides. If you choose to grill it, you will need to turn it several times during the cooking process. Heavy-duty tongs are preferred over meat forks for turning. No matter what cooking method you use, I absolutely recommend the use of a high-quality digital meat thermometer to monitor the degree of doneness. The fastest way to ruin a good prime rib is to overcook it! Remove it from heat when the internal temperature reaches 130°F, and place it on a tray inside of a warm cooler or hotbox to rest before serving. Cooking time will be dependent on cooking temperature, but a general rule of thumb in my preferred range is 13 to 15 minutes per pound. The internal temperature will continue to rise a few degrees while resting, resulting in a perfect medium rare (135°F) finished product. If perfect for you is more done, you can always take a slice and quickly sear it on a hot griddle or grill. Resting will allow the ribeye to "relax," and juices will redistribute throughout the ribeye, resulting in a more tender and juicy eating experience.
Serving
Serve immediately after slicing. I prefer to slice individually as people are filling their plates. This allows the meat to stay as hot and juicy as possible. It also gives me the chance to individualize portion size. Au jus or horseradish are both great additions to good prime rib.
Additional Resources
The list of resources is as endless as the seasoning mixes. Here are a few of my favorites:
Don't be afraid to break tradition this Christmas and wow your family with a prime rib dinner. With attention to a few small details as outlined, you can successfully conquer the king of beef dinners.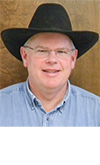 K. Scott Jensen

Extension Educator
University of Idaho
Owyhee County Extension