Think about a time when you were stressed out. In most examples, and science has proven this, the heightened stress level likely decreased your focus and capability. Animals are negatively impacted by stress, just as people are.
Incorporating low-stress cattle-handling principles and equipment into your system is one of the best decisions you can make to improve efficiency and better your bottom line.
Investing in cattle-handling equipment that is made to work with cattle's instincts is a simple solution to minimize their stress levels, just like reducing our own stress levels by getting enough sleep. Although there is an initial investment in the equipment, it is quickly repaid through increased efficiency and decreased stress. Here are five steps to improve or further integrate low-stress cattle-handling principles in your system.
1. Cattle need training too – Handlers need training, and so do our livestock. Cattle that have a positive first experience in a handling system are more likely to continue having low-stress encounters with the equipment. Ideally, the first few experiences cattle have in an unfamiliar system are strictly an introduction for training purposes, when the only expectation is for them to work through the system and get to know it without stress. This positive first experience sets them up for future success.
Similarly, cattle need to be acclimated to every new system. Each cattle-handling system is unique, and as such, cattle should be allowed time to adjust to their new surroundings and become comfortable with a new system or equipment.
2. Mind the details – There are several details to consider regarding your system, handlers and cattle. The configuration of a cattle-handling system should allow handlers to use pressure or flight zones to move cattle for optimal flow and efficiency. Also think about the future and how your operation may grow or change. You want a facility that can adapt as your operation does.
Next, consider the details around cattle handlers. Decreasing the amount of noise that cattle equipment makes is an important first step, and so is having handlers that are calm, confident and willing to utilize correct handling tactics. Cattle equipment should also be regularly checked to ensure it is in proper working order and that cattle and handlers cannot be injured. Finally, remember that cattle experience the world differently from us. Watch them as they are worked through your handling system and adjust where any stops in flow may occur.
3. Seek continuous improvement – Perhaps you have a newer cattle-handling system and investing again is not an option, but you also realize your current system could do better to facilitate low-stress handling principles. Seeking continuous improvement will allow you to alter and adjust some of the current features of your system to incorporate low-stress principles.
Consider changing the layout of your handling system to create better cattle flow, which will boost your efficiency over time. Think about adding a rubber floor to your chute to reduce noise and slipping and help eliminate any chance of chute shyness. These are just a few of many steps that can be taken to seek continuous improvement. Of course, staying updated on the latest trends in animal science research will also allow you to remain agile and to adapt quickly.
4. Invest in the right equipment – Implementing low-stress cattle-handling principles can be difficult with the wrong equipment or if there is no equipment or facility. The industry is growing and adapting to incorporate low-stress features into equipment and working system designs. This equipment is quieter, easier, safer to operate and works with cattle's natural behavior by allowing them to see light, which lets them flow through a system effortlessly.
While a squeeze chute is a critical piece of equipment for any ranch, your holding pens and tub are just as important. They should allow for some flexibility, in case you change your system design, while still aligning with low-stress handling principles. This is where having extra gates and panels on hand can be useful.
5. Skill up – Training and becoming familiar with low-stress cattle handling is the first step. Many academics and professionals carefully study animal behavior and have designed key principles to follow that are proven to drastically decrease livestock stress levels.
An industry misconception is that proper training or retraining is not needed. In any area of expertise, refresher courses and training are necessary to keep our skills sharp. Cattle handling is no different. All handlers should be trained to maintain consistency. Similar to not getting enough sleep, it is easy to lapse back into old habits when you're stressed or in a hurry. This is why refresher courses are needed. Training should also provide insight into how to properly use the cattle-handling system and equipment to take full advantage of them.
It's also important to ensure you choose to work with a company that stands behind its products and puts safety as a top priority. Low-stress handling techniques will be ineffective if you have broken or malfunctioning equipment you can't rely on.
These five steps to low-stress cattle handling in your system will have an immediate positive impact on cattle and your operation when applied correctly. Cattle handling skills, equipment and an investment of time and resources pay dividends as cattle are worked through a new or improved facility.
PHOTO: Giving cattle time to adjust to new or improved handling systems helps both the animals and the handlers have a smooth and low-stress experience. Photo courtesy of Arrowquip.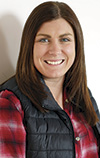 Janelle Hulme

Content Manager
Arrowquip