Meat processing plants across the country have gone offline in response to COVID-19 outbreaks among the workers.
Federally inspected cattle slaughter was 27% below 2019 levels for the week of April 24, and a reported 10% of the U.S. cattle harvesting capacity is offline due to complications from COVID-19.
President Donald Trump signed an order April 28 under the Defense Production Act to open plants and keep them open in order to keep the meat supply chain going. These plants will be following enhanced worker protection and distancing, which means line speeds will be slower than normal. Meanwhile, the fed cattle supply is getting bottlenecked at the feeder level due to limited access to packing plants.
Dan Loy, director of the Iowa Beef Center, joined by Iowa State University's animal science department Chair Dan Thomson and Iowa-based feedlot nutrition consultants Dustin Puhrmann and David Rueber, held a webinar offering advice for feeders wanting to avoid creating a buildup of heavy cattle waiting to go to the slaughterhouse.
Slowing down growth
Loy said that one of the more common approaches to slow cattle growth down is to be more conservative with rations. Putting cattle on a weight loss or maintenance diet is not recommended but can be done if the situation grows dire. Providing a more conservative ration that is normally applied at the backgrounding level (i.e., 50-55 Mcal of NEg per hundredweight [cwt] dry matter) or falling back to a step-up ration in the feedlot (55-58 Mcal per cwt) would still provide growth without risking the cattle becoming too heavy before slaughter. Loy said maintaining an average daily gain of 2-2.5 pounds per day will still deposit marbling while slowing growth.
Puhrmann said that if cattle are already on a finishing diet, the best thing to do is make sure they have enough fiber in their diets to sustain a healthy rumen and avoid laminitis and other complications from extra days on feed. "I think that they are still going to be efficient enough, and I think they're going to continue to grow even if we pull back on energy and put a little more fiber in their diet."
For younger cattle, limiting feed could be a workable strategy. Limit feeding cattle when they're on grow rations and higher roughage diets is a great opportunity to figure out a feed management system that will help them reach that 2.5 pounds-per-day gain but also stretch out their days on feed.
Health concerns for heavy cattle
One of the primary health concerns for heavy cattle in the feedlot is acute interstitial pneumonia (AIP). This problem occurs more in heifers and cattle that are 150-160 days on feed, spikes during the summer months and has a 50% mortality rate. Some signs of AIP include a sway back, bowed front legs, a hard time exhaling due to fluid in the lungs, grunting while trying to breathe and an inability to drink. The exact cause of AIP in cattle is unknown, but some probable causes include sepsis, aspiration, dust and heat stress.
Thomson also issued a warning to be careful to avoid bruising on carcasses. "Think about the two years of work that you've done on feeding these calves, and now you're going to wreck it all in the last five minutes as you take them from the home pen to loadout at the packing plant." Prevent bruising, especially in big cattle, by taking it slow during loading and reducing opportunities for cattle to hurt themselves.
Another health concern for heavy cattle is an increase in fatigued cattle syndrome (FCS). "With FCS, this isn't due to an injury, this is due to that animal being overstressed, heat stressed and just exhausted physically." Thomson reminded listeners that even if they have no control over heat stress or delivery times, they do have control over how they load and transport their calves, and the best way to prevent FCS is to take your time.
Selling strategies
Rueber said to prioritize the pens that need to be sold first. Aside from prioritizing by days on feed, avoid holding back heifers since they are susceptible to more health problems. Also, do your best to move pens that have had health issues or foot and leg issues.
Lastly, Rueber reminded listeners to play nice with the buyers. Like it or not, they're your best shot at getting your cattle moved, and maintaining clear and fluent communication is critical. "I know it's hard right now to have good relationships with some of these guys in the packing industry … but we need them right now," he said. "You need that relationship right now."
For more information on slowing feedlot cattle growth, view this Iowa Beef Center factsheet and for information on the webinars, visit the Iowa Beef Center website.
PHOTO: Puhrmann suggests backing down a ration or limit feeding younger feeders to slow growth while maintaining marbling.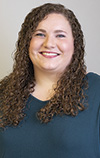 Carrie Veselka

Editor
Progressive Cattle