Beef cattle diseases and illnesses can be spread directly, from an infected animal to a susceptible animal, or indirectly, from an infected animal to an object and then to a susceptible animal.
Diseases can be spread orally, reproductively and through direct contact. Diseases can also be transmitted via aerosols (airborne droplets), vectors, food, water and contaminated objects. Beef producers often combat animal diseases and their effects with vaccines and other animal health products (antibiotics, medicated feeds, etc.). These efforts can be costly to an operation.
According to University of Idaho livestock enterprise budgets, veterinary costs for a cow-calf operation can range from $25 to $35 per cow per year. Although difficult to quantify, diseases and illnesses also cost producers thousands of dollars in lost productivity via reduced weight gains and reproductive efficiency. While animal health products offer many benefits, they are not 100% effective in disease prevention and treatment. Therefore, as producers consider how to protect their animals and herds from diseases and illnesses, they should consider implementing biosecurity protocols.
Biosecurity is defined as a set of management practices used to prevent, reduce or eliminate the introduction and spread of infectious diseases into, and within, beef cattle operations, including cow-calf, stocker/backgrounder and feedlot operations.
Some biosecurity tips from the California Department of Food and Agriculture include isolating and monitoring the health of new cattle; minimizing the entry of vehicles, equipment, people and other animals; utilizing quality feeds and protecting stored materials from contamination; utilizing clean water and protecting sources from contamination; maintaining clean facilities and consulting your local veterinarian.
These tips suggest there is no one-size-fits-all biosecurity plan for all operations. Biosecurity plans must be designed and adapted to match the ranch management protocols, production conditions and objectives of individual operations.
However, in general, biosecurity plans have three major components: isolation (quarantine), traffic control and sanitation. When implemented and managed effectively, these components can substantially minimize the risk of infectious diseases in beef cattle operations.
The USDA National Animal Health Monitoring System (NAHMS) periodically conducts surveys to gain an understanding of the use of cattle health and management practices on cow-calf operations in the U.S. Recently, these studies have been conducted in the 24 states with the largest beef cow populations and represented approximately 87% of all U.S. beef cows and approximately 79% of all U.S. beef operations. In 2007 and 2017, the NAHMS surveys included a biosecurity component which provided some indication of how biosecurity measures were being implemented on cow-calf operations. In a separate study (2008), a survey of 106 feedlots in the central plains of the U.S. was conducted to determine the level of biosecurity practice implementation on feedlot operations.
Isolation
Isolation refers to the prevention of contact between animals within a specific environment. A critical step in disease control and prevention is to minimize the mixing and movement of cattle. Every beef cattle operation should have a quarantine area for sick and new animals. Sick animals should be isolated and kept from commingling with healthy animals.
New herd additions [purchased replacements, homegrown replacements (from other ranches, facilities, etc.), stocker cattle, bulls, etc.] should be isolated and observed 30 to 60 days before they are incorporated into the main herd. This allows for the detection of diseases and other illnesses that may have been developing in the animals prior to shipment. Since infectious diseases can be spread via a variety of vectors, quarantined animals should not share fencelines, feeders, water troughs, animal health equipment, etc., with other animals.
Results from the NAHMS study (2007) showed that approximately 35% of the operations which were surveyed reported bringing new cattle on in the past 12 months. Of the operations that brought new cattle on, only 33% provided some level of isolation for the new animals.
The new cattle and calves incorporated into the herds were sourced from sale barns/auctions (42%), other beef operations (30%), other types of operations (26%) and from dairies (2%). Often, the animals purchased from outside sources come with little or no information related to their health or past treatments and may introduce new disease challenges into an operation.
Traffic control
Traffic control refers to the new or foreign traffic coming onto a beef cattle operation and the traffic patterns within an operation. Traffic includes vehicles (trucks, tractors, trailers, equipment, etc.), people (farm personnel, salesmen, veterinarians, visitors, etc.) and animals (cattle, pets, rodents, wildlife, birds, etc.). Infectious diseases can be carried by each of these traffic forms.
Vehicles should be cleaned, and visitors should wear clean boots and clothing before entering a new operation. Movement between the various areas of an operation should be limited. It is difficult to control all traffic on beef cattle operations but, with close observation, producers can identify and minimize the traffic that represents the highest risk.
The NAHMS study (2017) provides a picture of the number of visits (veterinarians, employees, neighbors, truckers, etc.) to beef cattle operations. Approximately 68% of the operations responding reported visitors in the last 12 months. Of the visits to the beef operations, 91% involved animal contact where contact was defined as touching an animal or walking through pens where cattle were housed. With each visit representing a potential contamination event, producers should consider limiting or controlling the visits to their operations.
Sanitation
Sanitation refers to the cleanliness and disinfection of equipment, people, animals (including pets) and materials coming onto and within a beef cattle operation. Producers should use sterile techniques when performing routine management practices. Infectious diseases can be spread from one animal to another during vaccination, castration and dehorning via needles, scalpels, dehorners, etc.
Calving pens, animal health equipment and obstetrical equipment should be cleaned and disinfected between uses. Additionally, vehicles and equipment that have come in contact with animals on one operation should be disinfected before being allowed on another operation. Feed wagons that have been used in pens, paddocks or pastures containing sick cattle should be disinfected before being used to feed healthy cattle.
To gain some understanding of the level of sanitation on beef operations, consider the results of the feedlot study discussed earlier. Participants were asked if the equipment used for oral administration of treatments was ever cleaned, with 92% responding affirmatively.
When asked if the equipment used for oral treatments was cleaned after each animal, the percentage of affirmative responses decreased to 45%. When asked if the oral treatment equipment was ever disinfected, 64% responded affirmatively compared to 26% that disinfected the equipment after each animal. Each time a piece of treatment equipment is used and encounters an animal's body fluids, blood, fecal material, etc., there is potential for a disease or illness to be transmitted to another animal.
Combining it all
Developing and implementing biosecurity protocols for beef operations can be a daunting task. Producers must identify the disease challenges, the ways diseases are spread, the groups of animals at risk and the ways to stop the spread of diseases before they reach susceptible animals. They must also identify available resources on and off the ranch to develop and implement a biosecurity protocol.
Most producers have assistance within reach and should follow the final tip from the list offered by the California Department of Food and Agriculture. That is to consult your local veterinarian (or local extension office). Veterinarians can help identify the disease challenges and assist in the development of prevention and treatment plans. Veterinarians can also be included on a team (extension faculty, nutritionists, animal health product representatives, producers, etc.) that is assembled to observe and evaluate the general management protocols of an operation.
Each segment of the beef industry (producers, veterinarians, feeders, packers, etc.) shares in the responsibility of developing and implementing biosecurity plans. The NAHMS and feedlot studies show that beef producers in various segments of the industry have implemented biosecurity practices. However, there is room for additional biosecurity plans and practices to be put in place. Beef producers should work to identify potential risks to their operations and develop biosecurity plans accordingly.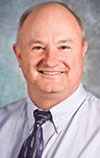 J. Benton Glaze Jr.

Extension Beef Cattle Specialist
Animal and Veterinary Science Department
University of Idaho