Consumers have a desire to feel connected with their food. Most are several generations removed from agriculture and are genuinely curious about where their food comes from and how it was raised. The Consumer Beef Tracker, a continuous online survey run by National Cattlemen's Beef Association (NCBA) on behalf of the beef checkoff, identified that 58% of consumers had a "concern" with how cattle are raised. The tracker, which targets 500 consumers per month and is census balanced for age, gender and region, found that of those consumers who acknowledged a concern, most cited "animal welfare" as the main source of their apprehension.
Cattle producers consistently share the story of beef production by applying checkoff-funded Beef Quality Assurance (BQA) standards on their operations every day. This includes following the program's internationally recognized animal welfare standards for cattle care. Most producers demonstrate that they raise cattle responsibly in accordance with BQA, but what about animal welfare matters like managing pain during and after painful procedures?
Pain management is associated with general perceptions of animal welfare, and consumers tend to relate pain in animals to their own personal experiences. People are accustomed to receiving pain medications when a dentist drills into a tooth, and assume the same care is taken to reduce pain in animals. Consumers should have confidence that cattle producers are constantly following standards of care for their animals, which includes considering pain control during accepted animal husbandry practices.
To address this, the latest version of the National BQA manual establishes guidelines that encompass the importance of providing pain management to cattle. As with other veterinary-focused BQA guidelines, like humane euthanasia, the National BQA team consulted with the American Association of Bovine Practitioners (AABP) to shape its pain-mitigation recommendations. The guidelines recommend that, as part of responsible cattle management, producers carefully consider providing pain management for cattle suffering from lameness, injury and/or pain during or following surgical procedures like dehorning and castration. Pain management may be in the form of anesthetics – like a local block with lidocaine – nonsteroidal anti-inflammatory drugs (NSAIDs) or analgesics, like flunixin.
The limited number of FDA-approved anesthetics or analgesics for cattle in the U.S. is one of the biggest obstacles to providing pain management for standard production practices. However, veterinarians have the ability to prescribe pain medications not specifically labeled for cattle to alleviate pain and stress and improve well-being. This emphasizes the importance of maintaining a close working relationship with a veterinarian – not only for access to pain management tools, but also to advise and help build protocols surrounding pain management.
Where should you begin? Take a look at the following tips to get started:
1. Establish a VCPR – in line with current BQA guidelines, a veterinarian-client-patient relationship (VCPR) means you have a solid working relationship with your veterinarian. This relationship should be in writing and should ensure the veterinarian has assumed responsibility for providing medical care and oversight of your cattle, has sufficient knowledge of your herd, can follow up and maintains patient records. In regard to pain, since there are so few approved pain-management tools for cattle, a veterinarian is necessary to help source and advise on how to use specific pain management products for different painful procedures.
2. Build a pain-management protocol into your herd health plan – Make sure you have a documented herd health plan and consult with your veterinarian to create protocols that address how to handle painful procedures. Examples may include pain-management protocols for lame or injured cattle, dehorning and castration, and which techniques should be used in each scenario. The AABP recommends veterinarians use the "3-S Approach" to pain in cattle, indicating that every effort be made to suppress procedures that are a source of pain, substitute painful techniques with those known to be less painful and soothe pain in situations where it is known to be present.
3. Know how and when to use anesthetics or analgesics in your pain-management protocol – For protocols indicating the need for an anesthetic or analgesic, work with your veterinarian to know which tools work best on your operation. Learn the appropriate way to apply or administer the product by getting trained by your veterinarian on how to properly administer medications or local blocks prior to a procedure.
4. Keep records – Record keeping is a foundational BQA guideline. Keeping good records on use of animal health products provides data you can reference at any time. It is equally important to maintain complete records on pain-mitigation products, and just as with other animal health products, withdrawal periods must be met before marketing cattle. Work with your veterinarian to establish and verify appropriate withdrawal periods on all pain medications and other animal health products.
Julia Herman serves as the beef cattle specialist veterinarian at the NCBA, a contractor to the beef checkoff.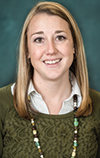 Libby Bigler

Colorado BQA Coordinator
Colorado State University