Not unlike years past, 2022 is proving to be a year of ups and downs for American ranchers. On the one hand, market prices and export demand are strong. Tighter feeder cattle supplies combined with higher global demand will likely keep prices elevated.
On the other hand, skyrocketing input costs and prolonged drought conditions in a large part of the U.S. are placing pressure on cattle ranchers' profit margins. As with many challenges in agriculture, both inflation and weather are beyond ranchers' control. But that isn't to say ranchers can't decide to what extent they will be impacted.
So how can cattle ranchers be proactive in reducing the impacts of inflation while also capitalizing on what would otherwise be a strong market?
1. Keep a close eye on interest rates
Without a doubt, input costs are going up. Energy, feed, labor, veterinary supplies and water are the areas where cattle ranchers I've spoken with are seeing the highest spikes. But another cost going up that isn't as obvious and whose impacts are less understood is interest rates.
At least four rate hikes are expected this year, with some experts speculating there could be more. Agriculture is one of the most impacted sectors of the economy when it comes to the effects of interest costs on their bottom line. Unlike most other sectors in our economy, farmers and ranchers are having to front 70% or more of their operating expenses before they see a nickel of revenue. Those with variable-rate operating loans could see this cut into their profits more significantly.
Keep a close eye on short-term interest rates and manage your borrowing needs conservatively. Take advantage of short-term, interest-free trade credit and attractive early pay discounts. And when appropriate, consult with your mortgage lender to explore refinancing your variable-rate debt with a fixed, long-term rate or interest-only payment options.
2. Be proactive with drought risk management
Even when market prices are right, conditions might not be. While top-line revenue numbers look good, drought conditions are likely to squeeze production capacity in the West. I've heard reports, particularly in the Pacific Northwest, of ranchers who are considering culling or moving cattle to market sooner rather than later to reduce water use.
As this drought shows no signs of slowing down in the coming year, ranchers are having to explore alternative strategies to cope. To avoid downsizing herds, some might consider securing supplemental feed or relocating cattle herds to more drought-resistant areas. Both require up-front capital and planning. Leaning into the resources available and taking proactive action can help minimize the impacts of drought on your ranch.
3. Take control of your operation and marketing strategy
If the last couple of years taught us anything, it was that being nimble is a necessity. While diverse revenue streams in agriculture are becoming increasingly important, the type of diversity and associated success rates vary drastically, depending on location and operation. Two good rules of thumb to go by when you're thinking about mixing it up is to first, focus on value-added opportunities in your current products, and second, keep leverage under control if you decide to introduce new practices and/or products.
Sometimes, a simple change in marketing strategy can help ranchers reach new customers in new ways without having to make drastic changes to the operation. For example, a growing number of ranchers with smaller operations are finding success in niche markets. Many are connecting with new customers online through direct sales. Others are creating farm-to-table experiences for their local communities. Whatever you decide, don't forget to think it through. What works for one ranch might not work for another. Tread lightly, measure results and don't be afraid to enlist help when it's needed.
4. Plan ahead with a solid support system
Ranching is rewarding in so many ways, but let's face it – it's hard work. If weather permits, 2022 is going to be a good year for grain producers, especially the ones who secured inputs early on. The ranchers who are in the best position right now are those who have analyzed margins after input costs – not just top-line revenue – and planned accordingly.
But even if you haven't contracted feed or accounted for higher input costs this year, having a support network in place can take some of the weight off your shoulders. Business strategy can level up with the right mindset. Finances can be restructured with the right lender. All you need are the right people with the right support in your corner.
Getty Images.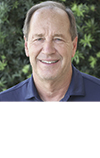 Curt Covington

Senior Director of Partner Relations
AgAmerica Lending