Recently, I had the opportunity to hear an amazing personal story of resilience and patience. Pete Ripmaster, ultramarathon runner and five-time Iditarod Invitational Trail participant, truly is a testament to enduring the impossible.
With absolutely no marathon experience or training, no high-quality sporting gear – just a pair of tennis shoes and cargo shorts, overweight and in his mid-30s, he told his wife, "I'm going to run a marathon today." And that he did. He ran 26.2 miles near his home in Ashville, North Carolina.
Describing the experience as brutal, he surprised himself by also realizing he loved it. Running provided "a time to go inside yourself." Something Ripmaster had been searching for after falling from the ranks of a star high school athlete, nearly recruited to one of the nation's best Division I college programs, but instead turning to alcohol, failing out of college, then facing the sudden death of his mother to cancer.
Finally experiencing internal peace from running, Ripmaster decided to run a marathon in all 50 states, raising $62,000 for cancer in honor of his mother.
But with patience not his virtue, he still believed he had more to do to find his personal identity. He petitioned for one of the 50 elite spots in the Iditarod Trail Invitational. You may have heard of the Iditarod but, like me, associated it with the famous dogsled race in the dead of winter across the Alaska tundra.
What I learned from Ripmaster's presentation was: There is also a run or bike race where individuals compete on the 350-mile icy trail.
Ripmaster's petition was accepted for the 2014 race. "If I can only tell you what it took," the 39-year-old said. "I faced every fear a man can face, but it was my first, and I finished." He crossed the finish line in last place.
The passion and intensity he gained from running marathons, and fighting through years of despair trying to put his personal and professional life back together, fueled the 39-year-old adventurer to go back in 2015 and finish the grueling 350-mile race.
Learning from his life experiences that whatever happens to be in front of you, you must continue forward progress, the young man from an affluent family, now an adventurer, signed up for the next challenge: the 1,000-mile race. In 2016, almost 200 miles into the race, Ripmaster fell through thin ice into rushing water with his 25-pound backpack on. For almost 20 minutes, he continued to go underwater, would fight his way back up and finally pulled himself onto more solid ground.
Fortunately, the temperature was only zero, and he trudged on for another 300 miles of the race, but the near-death experience told him it was time to go home to his family. Back again in 2017, consistent bone-chilling minus 60ºF weather ended his attempt early. Ripmaster is headed back in 2018 and "truly believes he will finish."
In agriculture, we are no strangers to disparity and challenges. Enduring droughts, heat waves, blizzards and, most recently, the many livestock producers who were impacted by the devastating hurricanes and unimaginable aftermath of flooding.
Along with the unpredictable markets, ever-changing policy, trade issues or fluctuating consumer trends, producers face constant times of endurance and patience.
Resilience like Ripmaster demonstrated means digging deeper each and every time you are faced with a challenge. He encourages people to stay in the moment, stay focused and be adaptable, as he believes this is important to endure what may seem to be the impossible.
Setting goals is one way individuals often find a way to work through challenges. However, he says, chip away at the goals – but remember you can't accomplish them all at once. When faced with overwhelming circumstances, it can take a toll on a person physically and mentally.
Most of us witnessed, through media coverage during the unprecedented hurricanes, volunteers and individuals moving into leadership roles to help their fellow citizens. Leaders who had the ability to empower others to keep their heads moving forward.
Those dealing with the aftermath of Hurricanes Harvey and Irma witnessed leadership from a firsthand perspective. They viewed leaders surrounding themselves with strong leaders to make the team stronger and understood that because you are a leader doesn't always mean you have to have all the answers; you just need to be transparent to lead.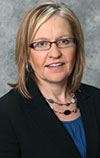 B. Lynn Gordon, Ph.D.

Leadership Consultant
Ag Leaders in Motion Brookings, South Dakota