Parents typically have many questions and concerns when it comes to succession planning.
During my extended years of working and counseling with farm families, the following comments were often shared with me: "How do I even begin?" "Can I be fair to all my adult children?" "Can my wishes actually be accomplished with planning?" "I never want my children to fight over my estate and money – is that really possible?" "Who carries out our succession plans after our death?"
I recommend farm families consider adopting five guideline planning steps to accomplish this task with success. These guidelines keep family members focused at achieving their ultimate goal: keeping their farm in the family for future generations. These steps provide families with a framework that can be used as a management tool to transfer ownership and management control of their farm to the next generation.
1. Adopting a vision
The parents themselves are the actual starting point. This is their farm, their estate and their family. I always ask parents this question: You worked and struggled your entire life to build this farming operation and to raise your family; now what are you planning to do with it? The bottom line is: Parents must identify a vision for the future of their farm and then share their planning intentions with their adult children (especially those who returned to the family farm). This requires a commitment by parents to initiate a family discussion process to begin formulating a plan that protects and preserves their family farming legacy into the future.
Too often, succession planning efforts fail simply because Mom and Dad cannot agree and are unable to work together to achieve their goals. Some parents pretend there are no family issues to worry about and, thus, there is no need for succession planning. Or, worse yet, some parents have the attitude that after they die, the children can figure things out for themselves. That approach is often a fatal mistake, leading to family disputes and ending a family farming tradition.
2. Drafting ideas into a plan
The next step requires the entire family to meet and begin discussing their ideas and concerns. Parents must take this opportunity to share and explain their vision (accomplished in Step 1) with their adult children. Each family member must now put their feelings, hopes and dreams into words. Begin drafting these ideas into words and start writing them down on paper. Draft out a mission statement for passing on the farm. Most importantly, family members must express their expectations with each other.
That requires individuals to openly share feelings and concerns during the discussion planning process. No matter how simple or brief, the objective is to get something in writing. Once a planning document is drafted, it can always be revised, updated and expanded. With nothing in writing, how can a succession plan ever be accomplished? Verbal plans rarely materialize.
3. Organizing planning resources
Now for the most important step in farm ownership succession planning. The family must put together a management succession team to guide them through this planning process in order to accomplish their planning goals. The following four representatives should be added as members of their succession planning team:
Accountant or CPA. There will be many income tax questions regarding capital gains and estate tax issues when passing on the farm business between generations.


Farm loan officer. There needs to be a financial plan in place for the next younger generation to take over the farming operation and to be financially successful.


Estate planning/wealth management specialist. Parents need an exit plan for leaving the farm with the assurance they will have a secure financial retirement with no worries or fears in their later years of life.


Attorney. A lawyer will eventually be required to draw up the necessary legal documents and agreements for keeping the farm in the family and to avoid any family disputes or legal problems later.
These four representatives have the expertise and a wealth of experience to assist family members in developing and implementing their farm succession plan. They can answer the questions and point out various options to consider before any decisions are finalized.
This, however, will require a major commitment of time with many appointments and family meetings – not to mention the expense when working with these planning experts. Remember: The benefits as well as the peace of mind for reaching closure to the succession planning process far outweigh the time commitment involved as well as the costs or fees that will be incurred.
4 .Clarifying family member assumptions
The adult farming children must visit directly with the non-farming adult children to learn and understand their feelings. Never assume that because I returned back home to the family farm to help Dad, I already deserve having the farm (whether gifted to me or sold to me at a below-market price). The other siblings may have another point of view as to what is fair.
Do these other non-farming children understand and appreciate the contribution of sweat equity by the farming children to keep the farm profitable and successful? Any existing jealousies as well as resentments must be resolved and feasible solutions found. When I hear the words "we'll see about this" by a family member, I know it is already too late to help – because those are fighting words, not words of compromise and reconciliation.
5. Take control and set deadlines
The critical strategy for planning success is simply taking action and getting the planning process started. Arrange for that first farm family meeting to kick off a discussion and planning process. Make that first appointment to begin asking questions and finding answers. Break down the overall planning process into identifiable stages and set deadlines to accomplish each specific purpose. Goals without deadlines are nothing more than dreams. Some families spend their time talking about succession planning, but results never happen.
Always remember: It is never too early for a family to begin this succession planning process. During times of a farming crisis or a family emergency is never the best time for making objective decisions for the farm's future. Unfortunately, the farm may end up being divided or even sold due to the family's failure to have implemented a contingency plan. There are no short cuts or easy answers to succession planning. The strategy for success is to start planning now step by step.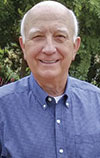 Ron Hanson

Meeting Program Speaker and Founder
Passing on the Farm