"There's an app for that." There's an app for just about everything these days. There's even a compass app for smartphones. Hopefully, if you're ever that lost, you'll have enough bars for the thing to work.
On second thought, if you have enough bars for that to work, your maps app or GPS will probably be your go-to technology.
The point is, technology and data are everywhere, and some are more useful than others. The trick is figuring out what technology and data you need. When choosing replacement females, data can be a useful tool, but you need to be clear on what you're looking for before you begin wading through it.
What are your goals? The answer to this question is important, because data is as worthless in charting your course as a compass on the moon until you clarify what outcome you're aiming for.
So before you overwhelm yourself with genetic or production data for potential replacement females, make sure you have set your breeding program goals. To set breeding goals, you should have benchmark records for the herd so you can track progress from where you start as you navigate toward your goals.
Develop a plan
Josh Walker, owner of Redbud Farms in southwest Arkansas, raises purebred Angus, Brangus and Red Brangus cattle. He says, "If you're not measuring things such as birth weights, weaning weights, calving interval, etc., data is just more clutter on your desk.
Once you start keeping records and measuring what you have, then you can start to develop a plan and take advantage of the value-added chains we have access to and to differentiate yourself from the crowd."
Breeding program goals may include reproductive efficiency, calf performance, increasing income or managing costs and many more criteria. When developing a breeding plan, set goals that complement your family's overarching goals and determine which breeding management practices will help you attain those goals.
Starting with the outcome in mind and prioritizing the traits that will get your herd to that outcome will help narrow the focus for your herd.
Changing herd genetics takes time, and the biggest impact will come from sire selection. It's also important to consider the role replacement females can play in reaching your herd goals. Even though sires have dramatic effect on herd genetics, females deserve their share of recognition because they will typically stay in the herd longer.
Mistakes made in selecting replacement females are expensive, so it is important to pay attention to all details to ensure that a positive return on investment in the females will pay off over the long term.
For example, Walker says, a live calf is his number one criteria for replacements. He also places emphasis on moderate cow size. "We use artificial insemination and embryo transfer and have a tight 60-day breeding season, culling open cows because they're not going to make any money that year unless she gets on the trailer herself or her baby leaves on a trailer. That principle has helped decrease our cow size.
"Big cows have trouble rebreeding, they have a longer postpartum interval. With moderate-size cows, you can run more cows in the same environment and have more calves. It's my job to provide an environment conducive for the cow to be successful, and it's her job to succeed.
"As a manager, I decide where I draw the line. The economics dictate we provide inputs up to a certain level and cut loose the cows that don't perform within our parameters."
The tools available for selection of replacement females include production traits, single-trait expected progeny differences (EPDs), selection indexes (EPDs that combine multiple traits allowing comparison of animals based on profitability) and genomic profiles (genetic testing).
Megan Rolf, assistant professor, Kansas State University, says when bringing females into the herd, "First and foremost, producers need a breeding plan, then they need to get their hands on any and all data and records they have access to and then compare the data to their selection criteria. Finally they should visually evaluate the females."
EPDS are key
James Koltes, animal scientist focusing on genetics at University of Arkansas says, "EPDs can be used in a variety of ways to help producers select replacement females based on their goals. I would recommend using an index to select replacement heifers, if possible.
For example, the $B index from the Angus breed is a good choice because it combines multiple traits that influence the lifelong profitability of the cow and the cow's calves."
Koltes says the accuracy of an EPD is helpful when two animals have nearly the same EPD value. "Accuracies are like a risk assessment value, but producers should be cautious of putting too much value in them as they are secondary to the EPD values.
EPDs are penalized for a low accuracy. So if an animal has a high EPD and a low accuracy, the EPD value was actually already reduced (penalized) due to this low accuracy."
Russell Womack of Clear Lake Farms in Hope, Arkansas, has a 250-head commercial Angus cow herd where he uses artificial insemination and raises his own replacements. He says EPD accuracy is important in his operation – "It's the probability of getting the trait I'm looking for."
Twig Marston, animal scientist and purebred breeder, says producers should be careful of overselecting for certain traits that may have cumulative effects in the herd. For example, if producers continue to select for growth and bigger mature weights, they could eventually have to adjust stocking rate or increase feed resources to accommodate their herds.
"The goal should be to maximize the optimum production of the ranch resources like grass, labor, animal production and saleable product."
Marston says identifying and selecting for "necessary traits," which are specific to the operation, is the first step. Even with data, it is still important to select for health, disposition, reproductive tract score and uniformity. Additionally, he says replacements should be free from physical defects from past illness or injury, which may affect performance and longevity.
Womack says, "Docility is my number one trait. In everything else, I look for moderation. There's a lot of good cows out there, but wouldn't it be wonderful to have an entire herd of breed-average cows?"
Marty Wooldridge of Wooldridge Land & Cattle, operates a 500-head commercial Brangus herd in Oil City, Louisiana. Wooldridge retains 10 to 15 percent of his heifers as replacements and markets the rest.
He says, "In an effort to cut costs and maximize efficiency on the farm, I have to cut down on labor, so I look for temperament. If I can't handle her on foot alone, or be with her in the pens, I'm not going to keep her on the place."
Genomic testing
Although it is predominately purebred breeders intent on selling bulls who are using genomic testing to buy replacement heifers, commercial breeders are showing increased interest. Koltes says it is worthwhile when it's affordable. "Recent studies from UC Davis have suggested that a commercial producer could spend up to $22 per heifer (up to $33 if the test's accuracy is high) to determine its value as a replacement.
Purebred producers could likely spend more than this when trying to produce bulls for sale. Obviously, the break-even point for each cow and the sales price of beef animals for harvest and bulls plays a role in how much producers can pay for genetic testing."
Koltes says, "In comparison, producers can justify paying quite a bit more for genomic testing for bulls since they influence so many animals in the herd.
The last estimate I saw was $89 per bull. Since it's estimated that greater than 85 percent of the genetic improvement in a herd is made through sire selection, the ability to use genomic testing to pick bulls that will produce the best daughters as replacement females is very important."
Koltes says, "If producers want to be very progressive, they could use genomics on their heifer calves shortly after birth to determine which are likely to be the best and then cull the lowest 10 percent of the calves at that time.
However, genomics will only work for calves produced from purebred bulls as there are not genomics programs for calves that are not at least 50 percent of a certain breed."
Brent Bolen of Bolen Farms in Idabel, Oklahoma, runs 250 spring-calving commercial cows and 60 registered Red Angus fall calvers. He says, "My cow herd better be working for me; I'm not working for them. It's a lifetime project to get your cow herd built up and suitable for your environment."
Producers have access to large amounts of data with increasing levels of accuracy on which to base their female selection criteria. This information is most useful when they have clearly defined their breeding goals and charted a course to reach them.
PHOTO: Selecting heifers involves knowing your goals, gathering data and selecting for traits that chart the course to achieving those goals. Staff photo.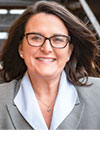 Melissa Beck

Freelance Writer
Prescott, Arkansas